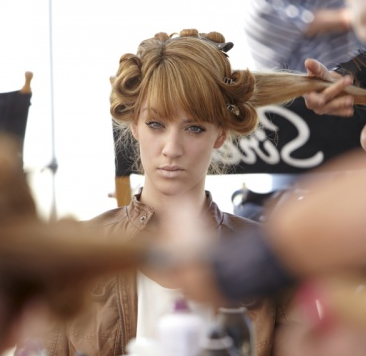 by Gina Scarpa
The British girls are going to need a minute to recover from Louise's meltdown during elimination on America's Next Top Model. Unfortunately for them, they're not going to get that time because Eboni is off screaming in a corner because she doesn't like that Tyra wants her to look young and happy. If she's so upset about it, why is she always wearing ponytails every time we see her? I think somebody just likes stirring up drama.
If you were hoping that Intoxibella powers were going away, they're not. Tyra's got Modelland books to sell!
The girls meet up with branding expert Martin Lindstrom (you may remember his harsh critiques of the all stars last cycle) for a challenge, in which they need to create their own commercial. They hock everything from toilet paper to remote controls. After getting past the ridiculousness of the challenge, let's point out some standouts. Sophie and Annaliese were really the only few that showed that they could be a spokesmodels. Most of the other girls fell apart or were boring in front of the camera and to make things worse, they're about to be judged by a group of consumers!
If you thought Martin was bad, you should've seen the group of everyday people that they brought in. From calling the girls ghetto to messy, they're certainly not holding back in their opinions. When Kyle gets favorable opinions from the panel, the girls attack her and she walks out of the room, threatening to leave. The girls have a point: you're going to need to have thick skin in order to survive this business. She composes herself and returns to the competition, but it's Annaliese who wins the competition and some diamond bracelets.
Their photo shoot this week takes place underneath a highway, where the girls are asked to model extravagant British hats while posing in front of classic American cars. Kyle pulls it all together on set and nails her time in front of the camera. Many of the girls bring creativity to the set and nail their shots, but that doesn't seem to be the case for Seymone and Candace.
At panel, AzMarie, Laura, and Kyle are the standouts and are the first three to be called.  Catherine is called next, followed by Annaliese, Eboni, Alisha, Ashley, and Sophie.  That leaves Seymone and Candace in the bottom, which is no surprise to anyone except perhaps them.  After talking it over, the panel decides that both have been pretty mediocre but Seymone deserves another chance.

America's Next Top Model: British Invasion airs Wednesdays at 8/7c on the CW.
(Image courtesy of the CW)
Follow Gina @ginascarpa and "Like" her on Facebook!