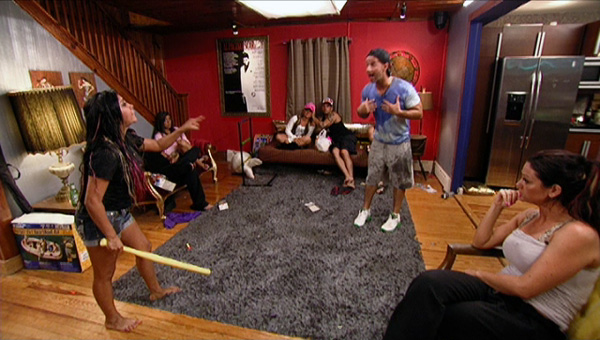 by Danae Young
This week on Jersey Shore, Mike finally talks to Jionni and the roommates go camping while Pauly and Vinny stay back to pull a prank. 
Mike took Jionni outside in the morning to tell him Snooki cheated on him with Mike. Jionni went back to bed with Snooki to tell her what happened, but he made sure to assure her that he didn't believe Mike. Snooki still got pissed that Mike has to go start drama for no reason. She yelled at Mike and told him they are never going to be friends and then proceeded to throw pickles at him. 
The guys in the house think that Jionni took the news so well because he probably hasn't been a perfect angel in the relationship either. That's actually not a bad theory boys. 
The roommates got into a small food fight that basically turned into Snooki vs. Mike. They were chasing each other around the house throwing macaroni salad, ketchup and mustard at each other. Snooki was covered in condiments so she went to Mike's bed and started rolling around in his sheets getting food everywhere. We all know that was Snooki trying to get her anger out for what Mike said to Jionni. She continues to deny the allegations so it's up to you to decide: Team Snooki or Team Situation?
Even after all of the roommates gave Deena a bunch of crap about Joey, she still called him to ask him to come over and go hangout with her on the boardwalk. He showed up and called to say he had arrived and Pauly answered the duck phone and lied to Joey saying that Deena wasn't going to make it because she's sick. Joey got upset and hung up on him and then called back so JWOWW answered this time. She called him out on being a snake and told him to go have a good summer without Deena. 
While MVP went to Aztec, everyone but Snooki went out to Jymbo's. Deena was really upset that Snooki stayed home with Jionni instead of going out to support her. Deena is upset about the Joey situation and she needed her meatball sidekick to be there for her but she's too busy shacking up with Jionni. 
With summer coming to an end, Snooki came up with the idea for everyone to go camping together. Vinny and Pauly chose to stay back while everyone else went camping and came up with the ultimate prank. It was so big they recruited Danny to help them with the prank. They literally flipped the house inside out. They made the inside look like the deck and even put in astro turf grass and a baby pool to be the Jacuzzi. Then they put all of the furniture outside to make the outside look like the inside. Trippy! 
Meanwhile in the woods, Mike was incredibly paranoid. He started pacing around and said he kept hearing things – yeah Mike, it's the wilderness! While he was freaking out everyone else was sitting by the campfire so Deena tried telling Snooki she misses their girl time. Snooki just thinks she's jealous because she is so in love. Oh boy…
Watch all new episodes of Jersey Shore Thursdays at 10/9c on MTV.
(Image courtesy of MTV)
Follow Danae @danaeyoung