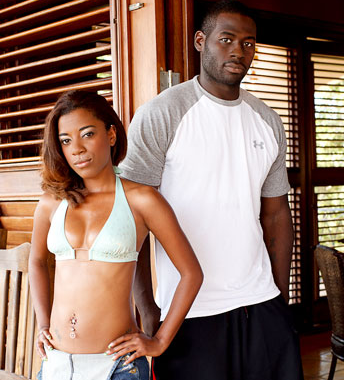 by Gina Scarpa
Tyrie and Jasmine came into The Challenge: Battle of the Exes not on the best of terms, to say the least. Their drama in the house didn't exactly help their communication in competitions. This week, they were automatically sent to The Dome after coming in last, and lost to Rachel and Aneesa. Today, we caught up with Tyrie to hear more about his thoughts on his partner, the alliances in the house, and the overall vibe this season on The Challenge.
Q. Gina, RealityWanted: It seemed like you and Jasmine had different opinions of one another. She didn't seem too thrilled to be partnered with you. What was your opinion of it?
A. Tyrie: I wasn't too thrilled about it either but I kinda figured that... what am I gonna do, complain about it or try to win some money with my partner? When I said I was there to try to win the money, I was there to try to win the money! Anything else with our past or her acting out for the cameras had nothing to do with me.
Q. Gina, RealityWanted: She had a lot of negative things to say about you in the house, which you overheard, as we saw. What do you think that was about?
A. Tyrie: It has to do basically with her needing to make up and cover up for whatever she felt happened on Rivals. I guess she felt she needed to do something to counteract whatever happened back home. To be fair and to be completely honest, had Jasmine just came in and really tried to work with me and be cool with me, we would've been the most boring couple in the house. I had no intention of hooking up with her and the fact that she was telling people that was just to boost her ego.
Q. Gina, RealityWanted: Speaking of hooking up, it seemed like there wasn't a whole lot of opportunity to that, given all the exes in the house. Was there a different vibe in the house than other Challenges?
A. Tyrie: I think it was a different vibe than say, maybe Rivals. The vibe on Battle of the Exes was... we had our share of spats and anger but for the most part, nobody was there to be malicious towards anyone. I think maybe the concept went wrong because yeah, you might be exes, but it doesn't mean that you don't have a boyfriend or girlfriend back home. We're getting to an age where we're starting to care about the consequences of our actions. Maybe I should zip my pants up instead of acting a fool!
Q. Gina, RealityWanted: Johnny and Camila appear to be running the game right now. Who were you aligned with?
A. Tyrie: I'll say this! Right before me and Jasmine's elimination, there was a very clear division in the house when it came to power and when it came to who would be on the chopping black. There were no malicious alliances - even Rachel and Johnny laughed it out, I believe. It seemed like it was Johnny and Camila, Mark and Robin, and Paula and Dunbar versus everyone else. I call them the three headed monster. There's a lot of trickery going on upstairs in that house.
Q. Gina, RealityWanted: And who are you friends with outside of the house? Do you have personal relationships with any of them?
A. Tyrie: There's a few people I would say I'm a little more cool with on the personal side - I'm forever playing Gears of War with CT. Leroy is one of my best friends outside of the show. Great dude. We've always had each other's backs. I'm cool with Johnny, I'm very cool with Johnny. When it comes down to the politics of the house, that's where the division pops up. I don't really do the politics stuff. I may have to learn how in order to get farther. For the most part, I try to stay out of people's business. I will say this: I got along better with everyone in the house than it looks like on tv.
Q. Gina, RealityWanted: That elimination challenge looked like it was geared towards Rachel and Aneesa. Do you agree?
A. Tyrie: It really was! First and foremost, soon as we were brought into The Dome and saw that, it was like, "Okay..." I was at my smallest, I was 210lbs and ready to go. Had the 210lb Tyrie been in elimination during Rivals, I would've won straight up. On this one, we all knew this wasn't my elimination round to win. Could I have won it? Yes. I tripped. I simply tripped over the pillar and completely fell in the most Looney Tunes kind of way. When it's all said and done, I was 210lbs and Jasmine was 85. This was her elimination round to win. I'm not gonna say too much but I think it was kinda set up that way. Going against Rachel and Aneesa eliminates the X battle and I think there wasn't a guy in the house that I couldn't have beaten. The rubber band elimination challenge, Jasmine being 85 pounds, that weight difference would've been a bad thing too. You got the one that you know Tyrie probably isn't going to win. The pillar only comes up to his shoulder. The lowest pillar is at his knee. That was the worst elimination round for me. My elimination record is so terrible but to be fair, a lot of things came about because of my lack of dedication and seriousness. They finally got me. I wanna win a challenge. I want my hand raised at the end.
Q. Gina, RealityWanted: So that means you want to come back?
A. Tyrie: I fully and prayingly hope that there is another challenge and I'm back in it. I am still on my cardio and running... I'm still 210lbs, okay? You will no longer see 230, 240, 250lb Tyrie.
The Challenge: Battles of the Exes airs Wednesdays at 10/9c on MTV.
(Image courtesy of MTV)

Follow Gina @ginascarpa and "Like" her on Facebook!