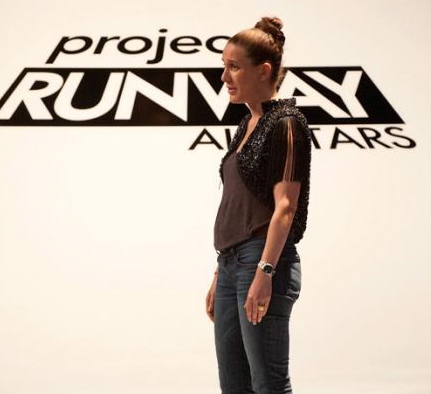 by Todd Betzold
It was Broadway night on Project Runway All Stars and some of the designers shined on this challenge, with costume design being their specialty. Meanwhile, others struggled with this challenge and were missing home and their families. That came through in the end and Kara Janx was sent home. Today, she spoke to RealityWanted and reporters in a conference call about her relationship with Kenley and other experiences on Project Runway All Stars.

Q. What is it about Project Runway All Stars that made you want to be a part of it?
A. Kara: Well, first off I was really flattered by the opportunity...it's a massive opportunity and I like to challenge myself. You often don't get offered chances like this and I thought this was a great chance.
Q. What was different with this experience like this time compared to your first time on Project Runway?
A. Kara: The new judges, in themselves, are just really unique. The first time around you are a lot more naïve and not so savvy to the situation...not that it gives you an upperhand, but you just know what you are going into. You know you still go through the same motions...it's very similar in that manner.
Q. Can you talk about your relationship with Kenley and what people thought of your relationship with her?
A. Kara: The thing is is that you are naturally drawn to certain types of people. You are in this environment with the same kind of contemporaries as yourself. Kenley and I really kind of gravitated towards one another. We were really each other's sounding boards throughout the whole thing and it never felt like, oh my god, why are you helping it each other...this is a competition. It was more of a case of we are in this together. It's only natural that you build relationships while you're in there. I think Kenley is a really special girl...we were just honest and open with each other, as were so many of the contestants. I had no agenda and I didn't have the agenda to go on and just make friends or go on and not make friends. I love Kenley and everybody knew that, but everyone had their own person that they leaned on...Michael had Mondo and vice versa. Each person just had someone that they connected with. It's not unusual...I don't know why people find it unusual. It's just an honest connection.
Q. Do you feel that Mila should have been sent home besides you this episode?
A. Kara: When I look back at it, it obviously is just the worst of the two, but I don't know how the backend works and how they make that decision. On the runway, I didn't think I was going home, as did anyone else. No hard feelings...that's just how it went.
Q. Going back to your relationship with Kenley, did you feel it was just drummed-up TV drama, or did Mila ever verbally express this in your presence?
A. Kara: No one ever expressed it in our presence. You know, we each had our own sort of rhythm in the workroom and some people work quieter and some people work a little louder. There were two sewing rooms and Kenley, myself and Mondo were in one of them and we actually gravitated towards that conversation...I think it's just different personalities. I think Mila doesn't open up as easily, whereas Kenley and I are very open and free-spirited. I don't think anyone disapproved of it...maybe they disapproved of the fact that we were louder than they hoped, but you can't fine-tune the workroom to suit you...you sort of have to adapt and that's part of what the show is about...really adjusting and adapting and making it happen.
Q. Now that you are gone, who are you hoping to see win? I'm guessing you're going to lean towards Kenley, but is there anyone else you'd like to see win this season?
A. Kara: I love Austin too...I love Austin and Kenley. We were quite a tight-knit group of besties, but I do think that Austin has phenomenal talent. Looking at the group, Michael, Mondo and Austin are really in key with what's going on...as I say, they adapt the best in the circumstance. May the best man win...or woman...man or woman.
Q. You now have two children, ages 2 and 4. When you were on Project Runway last time you did not have any children. In this episode it seemed like you were really missing your family. How did that affect this experience?
A. Kara: My initial reaction when I got the call to be on the show, was oh my gosh, I can't be away from my kids. I was like, I'm in a different place, but I spoke to my mentor and she said this is the kind of mother you are...this is who you are...you work, you do your thing, your kids love you for that. So, in my contract I made sure I could see my children, but it wasn't regular and it was very difficult. I'm a very hands-on mother and it's not easy being away...you're out of your comfort zone and you have to adapt to this environment. Anyone away from their kids is going to be devastated, but I had to do what I had to do. If I am going to leave them it is going to be with conviction and purpose...trying to do the best for myself and for them and the future. I don't do things now for myself...I do things knowing they could have a consequence that could lead to be potentially great for me and my family.
Q. How did you feel about Joanna Coles as a mentor, as opposed to Tim?
A. Kara: They just have such different agendas...I mean, they don't have an agenda, but Tim felt more like your best friend in the workroom...a critic and best friend...he, sort of, stepped up and helped you, whereas Joanna stepped back...just a different perspective. She would give a much more worldly, out there business perspective where Tim made it more like a school environment. It was like high school versus college...they are both equally great.
Q. Last night you didn't think the Broadway challenge was for you...could you talk a little about that?
A. Kara: A lot of the designers come from a costume-design background, so they have more of that aesthetic idea on how it needs to be, whereas I come from a ready-to-wear. For me, regardless of last night's challenge, I come from a very commercial background. In my business, the showmanship pieces don't sell very well and the wearable ones do. It's always hard to be there and translate what I've learned over the years in commercial success into something visually stimulating for the television. The challenge was just like any other and I needed to step out of my commercial comfort zone...everybody has their strength and that certainly isn't my strength.
Q. You talked about how you went a lot from one emotion to the next. Did you feel you were on a bit of a roller coaster ride and are you typically an emotional person?
A. Kara: I'm a very emotional person...I'm a Virgo woman. I don't know if that will mean anything to anybody, but you are just very highly sensitive, but I'm also very high energy. I'm just emotional...it's just my process...panic, panic, panic, make beautiful clothes...panic, panic, panic, make beautiful clothes. I'm an artist and for me, my process is an emotional one...I take myself on a very high-low journey. I also feel like this up-down is just very honest and that's why the other designers were receptive to me in the process. It's always honest...it's never bullshit. I think it's funny to watch it, but that's my process and it's always been since I was five years old.
Project Runway All Stars airs Thursdays at 9/8c on Lifetime.
(Image courtesy of Lifetime)
Follow Todd @tbetzold