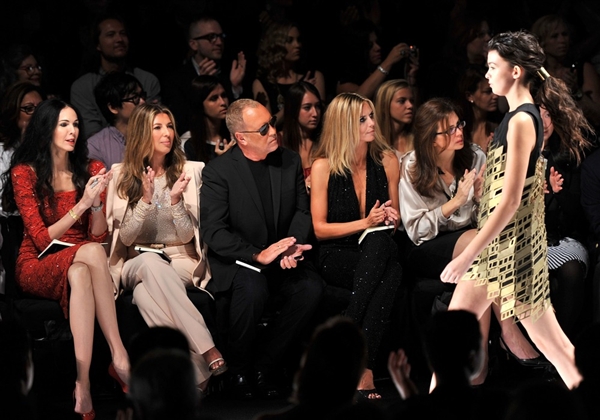 By Lindsay Strouse
Twenty designers started out this season on Project Runway, and now we're down to the Final Four. Who has what it takes to Make It Work all the way to the top? We find out tonight.
It's two days before the runway show at Lincoln Center, and the designers head back to their new workroom at 1407 Broadway. Tim welcomed the designers in the morning and expressed his opinons about last night's judging on the runway. He explained how it really comes down to personal style and how even he didn't agree with everything the designers said.
He lifts their spirits with a tremendous gift: they are given a shopping spree at Mood with a $500 budget and can do whatever they want with it.
Both Viktor and Anya jump at this opportunity to reinvent some of the designs in their collection. Viktor decides to scrap his dress in exchange for an entirely new aesthetic. After pretty harsh critiques last week, Anya goes all out at Mood to spruce up her somewhat recycled looks.
The majority of the fabrics Anya picks out are white and black, which don't exactly fit the original color pattern of her collection. Even if she creates knock-out looks, I'm worried to see how it will fit in with the rest of the collection.
Josh becomes frustrated with how much work he still has to do two days before the show. Viktor feels he branching out in too many directions, which scares him even more. After a quick heart-to-heart with Anya, he heads back to work with a clear(er) head.
The next day, the stress continues to mount and tension is, of course, at an all-time high. Luckily for Josh, he wakes up feeling completely rejuvenated and is excited about what he has to offer at MBFW.
When Tim steps in the next morning, he consults with each designer individually. He is concerned about the fuchsia colored "booty skirt" she is struggling with, and she is at a loss of words to answer his questions.
In a moment of truth, Anya lets down her guard and tells Tim she is not 100% happy with her collection and has come to terms with it. In a way, it almost sounded like she was saying her good-byes. I hope not, because I've always been a fan of the Anya that pulls out a miracle in the 4th quarter.
Viktor reinvents the gown that is to be paired with his rockstar detailed jacket and Tim alerts Josh that his collection is starting to carry a peculiar vibe that he isn't sure people will connect with.
At the last model fitting, I'm feeling really excited for Viktor, Josh, Anya and Kimberly, as their collections are really coming together.
And finally, we come to the moment of truth. The Final Four arrive at Lincoln Center for Mercedes-Benz Fashion Week and prepare to put it all out on the line. Heidi Klum, Michael Kors, Nina Garcia and guest judge L'Wrenn Scott got the best seats in the house for the show. 
First to send a collection down the runway is Kimberly. Her looks are stunning, with each garment popping with color and personality. Hers was definitely one of my favorites at Fashion Week and it always feels good to see the underdog come out on top.
Josh's collection certainly has a strong cohesive quality, although I can't say I see myself wearing much of what he put out. However, you do need to give him credit for sticking to his guns and creating a collection that represents his persona and aesthetic completely.
What I liked about Viktor's collection was that it had a very city chic, wearable quality. It was high-fashion, yet I would wear it down the streets of New York City. He included almost every Fall 2011 trend in the book, and looking at the episode tonight, I really think it paid off.
Last but not least is our favorite Caribbean designer, Anya. Thank goodness for that last minute Mood trip, because she transformed her collection from drab to fab (yes, the corny cliché was necessary). As each new piece comes down the runway, you can see the happiness and satisfaction in the judges' face.
At this point, I'm predicting it will come down to Anya or Viktor. But only time will tell that one...actually, only the judges will.
Here's what happened during the deliberation and judging:
The judges were impressed with how much Kimberly listened to the advice she was given last week while maintaining her personal style. The one issue they had was with that darn bubble skirt-it was just too bubbilicious.
Both Heidi and Michael appreciated how much Josh edited his looked and merged hard and soft styling. L'Wrenn Scott liked his combination of fabrics and textures and Nina also commented how great his garments looked photographed.
Michael thought Viktor's tailored and printed pieces were great, but thought he included too much transparency and sheerness in the collection. Heidi was a little bit on the fence with some of his looks, but overall understood his vision.
Anya's collection contained Michael Kors' favorite look from the show-a sexy and beautifully cut maxi dress. The judges loved how much Anya transformed her collection from last week, and while they appreciate her personal style, they wish it could translate into an urban atmosphere a bit more.
Cue the final deliberation complete with dramatic music. It seems like they dismiss Kimberly and Viktor pretty quickly, although you never know what is really going on in the minds of these judges. They find comfort in how distinctive Anya's clothes are and could picture what a future Anya shoe or bag or dress might look like. However, the incredible styling Josh pulled out also blew them away.
After the longest of waits, we finally find out that this season's Project Runway winner is...Anya! Congratulations to a beautiful designer and person.  
(Image courtesy of Lifetime)
Follow Lindsay on Twitter @LindsayStrouse