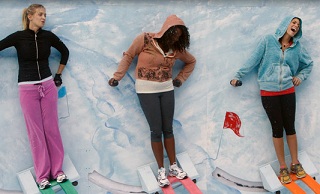 by Gina Scarpa
When we last left the houseguests on Big Brother, they were competing in an endurance challenge to win HOH. Now that the Golden Keys are out of the way, it's anybody's game - well, except Rachel's. The first five to fall off of their skis in the HOH competition will have to open a snowball, which could contain something good or bad.
The first one down is Adam (who only made it 9 minutes) and wins the honor of wearing an elf suit for a whole week. I don't know if "wins" is the right word. Next is Lawon, who faceplants in the fake snow, and gets a Have Not pass in his snowball. Brendon is the third to fall and is also a Have Not for the week. Then, Jeff goes down but gets $10,000 in his snowball. The fifth person to fall is Jordan, who gets to be a Have Not.
After that, Porsche and Shelly both fall, leaving alliance members Kalia and Daniele to finish it out. Over an hour and a half into the competition, Kalia drops and Daniele is the winner and the new HOH - you can feel the veterans shaking in their boots.
Immediately, Rachel shuts down and fights back tears. She does know that she can't win everything right? Daniele grabs Jordan and tells her that she's not going after her or Jeff this week. It doesn't matter, though. She already feels defeated but Jeff is loving having his back up against the wall and being an underdog.
Jeff's assessment of visiting Daniele's HOH room was the best: "Going up to Daniele's HOH room is kinda like being on death row, except the executioner brings you up to their room for a dinner party. Not a good place to be."
Daniele offers Jeff and Jordan a deal: She won't go after them this week, so long as they don't go after her next week. They have no choice but to take it and hopefully, at least she keeps up her end of it.
I'm not sure which I enjoyed more - Adam's elft costume or Rachel's fall by the hot tub.
America has voted that the Have Nots will enjoy seaweed and sardines this week. So basically, they'll just be eating slop.
Brenchel heads up to the HOH room to do some damage control and try to stay off the block. Daniele would be crazy not to put them up. They're a force to be reckoned with in the game, especially Rachel. Daniele lies and tells them she's not making deals, but just wants to consider what everyone has to say and offer.
However, there is something to consider.  Daniele is only able to get one player out of this house.  At this moment, it seems Kalia is her only ally in the game, and we all know she's not winnin' anything.  If she goes after the vets, they'll all be gunning for her next week and every week after that.  She may not want a target that big right now... or ever, for that  matter.  Then again, Daniele's not afraid to do what she wants and isn't easily intimidated by others.
At the nomination ceremony, she decides to put up Brendon and Rachel.  Smart girl.  Ballsy, but smart.
Find out if Brendon or Rachel can win the POV on Big Brother, Wednesday at 8/7c on CBS.

(Image courtesy of CBS)

Follow Gina @ginascarpa and "Like" her on Facebook!