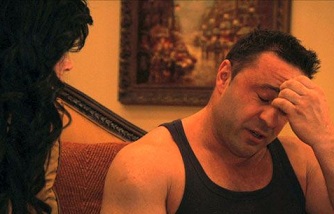 by Jessica Blackwell
And the holiday parties keep on coming in Jersey!
Besides it being Christmas, it was also Ashley's birthday. Jacqueline tried to make sure her birthday was extra special, since she wasn't able to go see her dad. Jacqueline expressed that she feels like Ashley respects her father more, and she doesn't remember the times when he wasn't there. I can tell that it's frustrating for Jacqueline, who has always been there and seems to get less respect from Ashley. In my opinion, they need to stop babying her just because she comes from a broken home. There are a lot of children who do, and they just have to roll with the punches.
Ashley also makes an interesting remark regarding her stepfather, Chris. She feels that her and her real father are always joking around, and that with her stepfather it is different. Gee Ashley, could that be because he is raising you? And doesn't just have the luxury of being your best friend once every 6 months when you visit? She also said that although he brought her a Jeep, money doesn't buy a relationship. While she was driving the car. Enough said. I hope this girl wakes up and realizes who truly loves her.
When everyone gathered at an Asian restaurant for Ashley's birthday, I got a first glimpse into the Manzo children's view of Ashley. Lauren seemed annoyed that Ashley got the same car that was taken away from her last year. Given the fact that these kids couldn't have been raised more differently, I can understand the tension. Chris, Albie, and Lauren were raised to work for everything they have, while Lauren get everything handed to her and acts like a spoiled brat.
"Joe Giudice better come correct to my home"
Melissa and Joe work on planning their massive party. Besides spending in excess of 50K, they are worried about the fact that everyone who was at the explosive christening clash, will now be in their home together, reunited. One thing that I liked about Melissa was that although she was spending so much money on the party, the point of the party was toy donations for St. Joseph's Hospital in Patterson NJ. Everyone who came to the party had to bring a toy. She said she would never spend that much on a party during that time of year, without doing something for the children.
Teresa dragged Joe to the party when he clearly wanted to be anywhere else than at the Gorga house. Right when Teresa walked through the door, she had a mini altercation with her cousin Kathy, who in my opinion wanted nothing than to clear the air between them. Then Melissa's brother- in- law approached Joe Giudice saying that he owed him $1000 for fixing his air conditioner. Then the real drama starts.
Kim G, forever creating problems, brings Monica Chacon to the party as her date. She claims to be innocent, but she knows that the 2 women are locked in a court battle. Monica Chacon is a lawyer who is suing the Guidices. Melissa catches wind of the situation, and asks Kim G to have Monica leave. And Kim G says that she can't do that. Excuse me, what? They had to ask Monica and Kim G to leave about 15 times before she got the hint. Monica ended up being escorted out by Melissa, and Kin G stayed at the party, and everyone urges Kim G to speak to Teresa. Then the episode ends!
The drama continues next week...
The Real Housewives of New Jersey airs Sundays at 10/9c on Bravo.
(Image courtesy of Bravo)