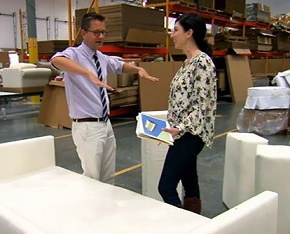 by Todd Betzold
More showcasing and shopping than designing on this week's episode of Million Dollar Decorators.
Kathryn kicks it off this week and has her limited amount of camera time for this episode, as she meets with Shannon Factor about the beach house one more time. They are a few weeks away from install and going over furniture needs. Later in episode they go shopping together for furniture and it goes over pretty smooth compared to other episodes with thee two.
Let the showcasing begin, as both Nathan and Mary work separately to get ready to show off their new designs at High Point Market in North Carolina. Nathan will be showcasing his new line of furniture he designed for Elite Leather and Mary will be showcasing her new line of lamps she has coming out soon.
Prepping for the market, Nathan looks at the furniture and he is not happy with one of the sofas. It is too boxy for him and changes must be done before High Point. Meanwhile, Mary has to give a name to all her lamps before High Point, so she gets to work on that with her assistants.
Martyn brings the designing into the episode as he travels to Palm Springs to the Colony Palms Hotel. He designed it two years ago, but they are in need of some help decorating the Palm D'Or Suite. He has a Spanish-Colonial goes to Morocco look to the hotel, so he wants to bring that into the suite. It is very boring and he is going to bring some character into it on a cheap budget, for Martyn, of $150,000.
Mary and Nathan check into their Comfort Suites room and we see this is a little below Mary's normal tastes, but they make it work. You can tell these two have some fun together, as they laugh it up in the hotel room.
Meanwhile, Jeffrey and Ross head to San Francisco for the San Francisco Antique Show. They get invited to the exclusive Designer Circle Party, in which they get to view everything the night before the antique show, but they cannot purchase anything. They turn the trip to San Fran into a shopping spree for them, as they look for a table for their sunroom. They find a John Dickinson table that they both fall in love with and must have.
Martyn gives Kathryn a call and invites her out to Palm Springs to be his "assistant" while he does the install for the suite. She is ecstatic over this, especially after dealing with Shannon and the beach house for so long.
It's the day of the antique show and Jeffrey and Ross show up late. There is a bunch of people there and they run over to the table, which has been sold. Ask seller who made the purchase and it was Suzanne Tucker, so Jeffrey goes to try and get it from her. Since he had so much passion for the table and it was not for a client, she gave it to them.
Mary and Nathan arrive at High Point. They take a look at Mary's lamps and both fall in love...very impressed. Nathan goes to check out his furniture and loves them all, including the changes to the sofa. They start putting the showroom together, since he has some big names coming like Elle Décor and Bloomingdales, he needs it to look perfect.
In walks Mary, as she takes charge of the showroom. She starts guiding everyone on where to put things, which is fine by Nathan because he wanted the outside eye to help them.
Jeffrey and Ross arrive home with the table and Jeffrey tries to find a place for it in the sunroom. The table is smaller than they thought it was and in the end, it made a better end table than coffee table, so their shopping adventures for a coffee table will continue.
Martyn is on install day and brings Kathryn with him. They go through the suite to check out the changes that have been made and he is quite happy. Kathryn heads to the pool/bar while the installers arrive and start taking out the old furniture and bringing in the new.
It is show time for Nathan, as it is time to present his new line of furniture. People seem to be enjoying it, but the true test arrives when Bloomingdales arrives. They have a large team, which intimidates Nathan. They look at first coach and he gets no response from them, so he is flustered if they like it or not. There are no doubts with the second coach, as they love it. Both Nathan and Gaby from Elite Leather are happy with how the day went.
We finish up with Martyn, as he puts the finishing touches on the suite. Kathryn calls him while he is doing this. She wants him to come meet her at the pool and Kathryn may be a little tipsy at this point and time. He turns her down and finishes up the suite. The hotel manager comes to check it out and is in love. He tied it all together with the other rooms of the hotel. He had a little money, but it looks like he spent $1 million.
Martyn heads to pool in the dark of the night and there passed out is Kathryn. He wakes her up and they head out. A busy day for Martyn and a relaxing day for Kathryn, but they both are happy with the ending.
Million Dollar Decorators airs Tuesdays at 10/9c on Bravo.
(Image courtesy of Bravo)
Follow Todd @tbetzold