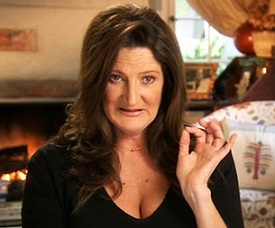 by Todd Betzold
Birthday celebrations and crazy clients on this week's Million Dollar Decorators.
Mary gets us started this week, as she is working with Jill, a fashion designer, on designing her home office. Jill always has too many wants and loves lots of colors. Mary said she is like a kid in a candy store and needs to pick just one lollipop.
Martyn travels to NYC for one of his clients, Tamara Mellon, the president and founder of Jimmy Choo. She has a $30 million apartment and they've spent $2 million so far, with another $500-600,000 more to spend. She is looking to add to her bookshelves some shoes from her new collection that was just shot by a big-name fashion photographer. Martyn decides to go with clear display boxes.
We get to see Jeffrey and Ross, as they make dinner at home. Ross does all the cooking for them and Jeffrey usually drinks a glass of wine to help. They discuss Ross' upcoming birthday, which he wants to do nothing for.
Mary meets with Jill to present three different color schemes for the office. Jill doesn't chose the one she initially said she wanted, but instead went with the one Mary designed knowing this is what she would love. Again, going with Mary's concept that her client's need to be pushed to see what they actually want.
Kathryn, meanwhile, heads to the newly purchased beach house of the Factor family. She is given a tour of the place and some ideas of what needs to be done. It has no character or soul in it and states it would take six to eight months to complete and Shannon wants it done in six to eight weeks. Kathryn states if anyone can do it in that timeframe, it is her.
Mary meets with the contractor and goes with a bold pattern floor for the office, which Jill wanted to be more feminine and colorful, not black and white.
Shannon comes to Kathryn's office to choose fabric for the beach house, but has a totally different vision than Kathryn has. They butt heads some and Shannon is being very difficult to work with. She has her set ideas and no budging.
Jill calls Mary and wants her to come to her house to discuss the floor. Mary walks in and loves the floor, but Jill hates it. Mary talks her into waiting to see the finished product and that she would love it.
Jeffrey plans to cook for Ross for his birthday party, so gets some lessons from his chef friend. Demetra 1, his assistant, goes for the lessons also because she will be helping out.
Kathryn goes to meet with Shannon to go over the boards for the layout of the house. They butt heads, yet again, because Kathryn took out some of the fabric that Shannon chose because it didn't work into Kathryn's vision. Shannon couldn't move past these fabrics not being there, but eventually Kathryn got her to like what she had in mind and she is optimistic on things going more smoothly from then on out.
Martyn arrives back in NYC with display boxes in hand and puts together the new displays for his client's shelves, which she loves.
Jeffrey arrives at his friend's place in Malibu, where they'll be having Ross' birthday celebration. He decorated the place beautifully, but no big shocker there. Demetra 1 arrives and they start cooking and it is a mess. Both of them have no clue of what is going on and it makes you want to smack them a little because they are acting so stupid. In the end, the friends arrive and the party is a smash and the food is a hit and Ross loves it.
Mary has installation day for Jill's office. The central piece of art she purchased is not there and it puts a delay in them finishing the room. Her assistant goes and picks it up and they are putting the finishing touches on the room when Jill arrives home. She comes in when completed and absolutely loved the room. Just her style, but of course Mary and her ego knew that she would.
Million Dollar Decorators airs Tuesdays at 10/9c on Bravo.
(Image courtesy of Bravo)
Follow Todd @tbetzold