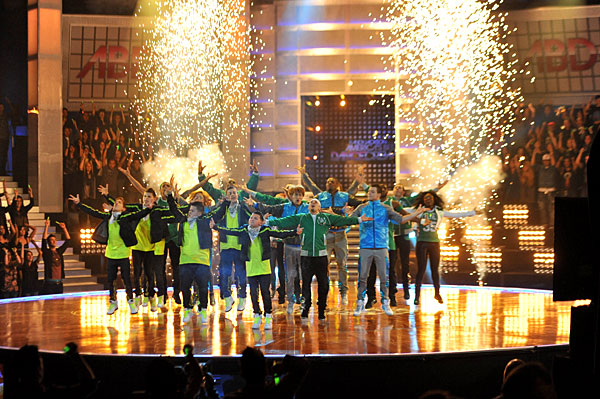 by Danae Young
This week on America's Best Dance Crew, the final three remaining crews performed to a Kanye West master mix and the two finalists are revealed. 
The crews kicked off the show with a group performance. 
Only three crews remain and this show determines who will be in the finals. 
The crew with the top number of votes was ICONic Boyz! I knew they could do it! That left Phunk Phenomenon and I aM mE to battle it out for the final spot in the championship against ICONic Boyz. 
Each crew had to perform to a master mix of Kanye West songs and also had to incorporate three dance moves provided to them by Poreotix. Those three moves were the dougie, boogaloo and isos. 
ICONic Boyz were up first, but they didn't have much to worry about because they were the only crew guaranteed a spot in the top two. D-Trix thought the routine was good and said the best part was the dougie. Lil Mama commends them for giving inspiration to kids all over the world. JC Chasez said it was entertaining but not their best. 
Phunk Phenomenon was up first in the battle round. They really needed to prove themselves after being in the bottom two last week also. Lil Mama said they are amazing. JC Chasez thought it was a fantastic performance. D-Trix said the performance had zero down time and thought it was tremendously great. 
I aM mE was last up to prove they are worthy of the finals. JC Chasez's mind was blown by the two crews in the bottom. He thought I aM mE's creativity was outstanding. D-Trix was left speechless and Lil Mama said they have originality for days. 
With such good feedback from the judges for both crews in the bottom two, it was hard to say who they would choose. 
Even after their best performance yet, Phunk Phenomenon was not able to prove to the judges they deserve to be in the finals. They were ultimately sent home. 
ICONic Boyz and I aM mE finished off the show with one last performance each. They got to put everything together from their choreography to the music to the wardrobe. For each crew this was their last impression on the fans, so this performance was crucial.
ICONic Boyz wanted everyone in the crowd to feel like they just watched superstars walk down the red carpet. They called their performance "The ICONic Dream." If you ask me, they rocked it. 
I aM mE was up next for their "last stand" performance. They wanted to show off their individuality. They called their performance "Ill-emental." 
The next time you see these crews, they will be battling it out for the title of America's Best Dance Crew! 
Watch the finale of America's Best Dance Crew Sunday, June 5 at 10/9c on MTV.
(Image courtesy of MTV)
Follow Danae @danaeyoung