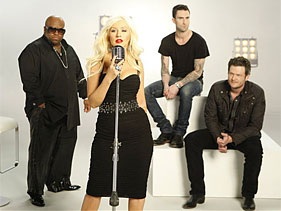 by Todd Betzold
After many weeks of promotion and anticipation, NBC finally debuted it's new reality show, The Voice, and it hit it right on the nose with the title.
In the search to find America's next great voice, this singing competition puts vocal ability first and everything else second, including age of the singer. There are no judges on this show; however, there is a panel of four big-name coaches, Adam Levine, CeeLo Green, Christina Aguilera and Blake Shelton, all powerhouses in the music industry.
The difference with this show and other reality singing competitions is that the coaches have their backs to the contestants as they audition and are basing their decisions to choose them solely on their vocal ability. Coaches must put together a team of eight singers, which then they will coach them on as they go through battle rounds and eventually to live shows in which America will decide the winner, who will receive a recording contract with Universal Republic.
If the coaches like what they hear, they hit the button in front of them and their chair gets turned around and they get to see the contestant for the first time. If only one coach chooses them, that singer is now on their team. If no coaches turn around, the singer does not move on. If more than one coach chooses them, then it is up to the singer to decide which coach's team they would like to join. This makes it so hard on the contestants, because how can you really turn down a chance to work with any of these coaches?
After a performance of "Crazy" by all the coaches, which was fun to watch, and a reading of the rules by host, Carson Daly, a nice change from the host on other shows, we finally get to our first singer. Tarralyn Ramsey from Jacksonville, Florida. At 31, she claims that she "ain't getting any younger" as she heads out to the stage to sing "Breath." And boy did she take our breath away. Christina was the first to hit her button and CeeLo followed. The battle was on to get Ramsey to join their team. After some sweet-talking by the judges, Ramsey shed some tears and said that she has always loved "What A Girl Wants" and has all Christina's albums and sings them all, including the Spanish ones even though she doesn't know all the words, so she chose Christina.
One singer down and one member of Team Christina.
Up next, we have country-singing, cowboy hat-wearing hottie, Patrick Thomas, 20 of Nashville. Thomas sang "Live Like You Were Dying" and his chances in this competition were not dying as CeeLo, Adam and Blake all hit the button in approval. We got to see some banter between the judges as Blake and Adam fought for Thomas and Adam said, "If you weren't 6'5", I'd kick you're a#*." This shows that it is not only a competition for the singers, but also for the coaches, as they want to build a winning team. The country connections Blake has to offer won Thomas over as he chose him.
Chalk one up for Team Blake.
One of the joys of this show: it does not feature any bad auditions. There are singers not chosen, like Jared Blake and New Jersey mom Joann Rizzo, but it was after respectable auditions that they weren't chosen.
After CeeLo's first team addition of Vicci Martinez, an out lesbian that sang "Rolling In The Deep," we arrived at the first duo of the competition, Elenowen, consisting of married couple Josh and Nicole, from Nashville who currently live in Nicole's parent's basement. The folk/pop duo sang "Falling Slowly" and it didn't take long for Blake and CeeLo to fall quickly for them. After Nicole left it up to her husband, the leader, to chose, Josh went with Blake for his second team member.
After another audition and another contestant shot down, we are lead to a familiar face to the reality singing competition world. Next up, Frenchie Davis, 31 from Los Angeles. Recognize the name? Yup, it is the same Frenchie Davis from American Idol fame who auditioned for the show eight years ago and was disqualified after some scandalous online photos of her were discovered. She has since starred in Rent on Broadway and she says, "I will never give up on my dream." After rocking out to "I Kissed A Girl," Frenchie has one lone judge who chose her and she is now a member of Team Christina, a perfect match for her vocal abilities.
The bring-a-tear-to-your-eye audition comes from Jeff Jenkins, 22 from Jones Creek, Texas, whose mom, that passed away ten months ago, taught him how to love, how to believe in himself, his confidence and how to forgive. This was Jenkins' first audition with his mother not there with him. He was dedicating the performance to his mother. This is the kind of contestant this show is perfect for. You would look at him and not give him a chance, but once he started singing, you wanted him to just keep on going. Singing "Bless The Broken Road," Jenkins was the first contestant to get all four coaches to turn around, including a standing ovation from CeeLo and Adam. After the coaches battled for him, the country singer made an unexpected choice and went with Adam. The first contestant for Team Adam. 
After auditions from a contestant living out of her car, a shy high school student and a sci-fi guy, we arrive at one of the frontrunners coming out of part one of these auditions, Javier Colon, 33 from Stratford, Connecticut. Colon is a married man with two beautiful little girls, who happen to be his world. Wearing his baseball cap to the side and playing his own guitar, he let out his soulful side as he sang "Time After Time." This was a great performance, as he was hitting all the high notes and had so much control of his voice. Enter second contestant of the night to have all four coaches turn around for him. More battling from the coaches to win Colon over, but in the end he chose Adam and mark up another huge talent on Team Adam.
The final audition of the night belonged to Beverly McClellan, 41 from Ft. Lauderdale, Florida. This would be another contestant that would benefit from not being seen until the judges turned around. Having a shaved head, tattoos on her neck, and baggy pants, McClellan opened her mouth to sing, "Piece Of My Heart," and you wanted to get up on stage and rock out with her. A great performance and battle between Christina and Adam, but Christina won out and added a rocker to her team.
At the end of part one of the blind auditions, all four of the coaches have three of the eight members of their team in place. The coaches will round out their teams next week, when part two airs.
Check out our interviews with contestants Javier Colon, Vicci Martinez, Elenowen, and Jeff Jenkins here!
The Voice airs Tuesdays at 9/8c on NBC.
(Image courtesy of NBC)
Follow Todd @tbetzold