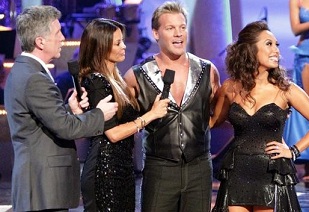 by Gabrielle Abrams
Dancing With The Stars started right off tonight with their special guests. New Kids on the Block and Backstreet Boys took the stage to start off the show. It was interesting to watch both groups sing and dance together. It's been awhile since I have been BSB perform, and wow has everyone aged!
The top couples are the first to hear their fate. First couple safe of the night is Romeo and Chelsie. Chelsea and Mark are also safe! Both are good starts to the elimination.
The encore dance tonight went to Chelsea and Louis for their Samba. It was good, but I'm not positive it deserved the encore dance.
The third safe couple of the night is Hines and Kym. And another safe couple is announced as Kirstie and Maks will return as the fourth safe couple.
There is a video about the new dance troup. But let's be honest, this show is about the main dancers. It's great to watch this troupe dance, and they are certainly great at it, but we don't need to watch a video of them rehearsing.
Christopher Scott choreographed an adorable dance about love through the ages. Really cute children start off the dance leading into a wedding sequence. Then ending with the couple, now elderly, dancing by the same tree as when they were children. At the very end only woman remains, and we end with the two kids holding hands under the tree. Quite adorable.
New Kids on the Block and Backstreet Boys return to the stage to sing one song each, "I Want It That Way" and "Step by Step." Backstreet boys are certainly my guilty pleasure. But the Backstreet Boys didn't sound very good, I don't know if it's the recording or the face that they are older.
Eliminated American Idol contestant Pia Toscano also took the stage. She's proving to everyone why she shouldn't have been kicked off that show. She sang a gorgeous ballad tonight.
The fifth safe couple of the night is Kendra and Louis. The night starts to get more tense as they are down to the last two couples. But of course, we have a commercial break first. The sixth and last safe couple tonight is Ralph and Karina.
This left Chris and Cheryl as the eliminated couple of the night. Are you surprised?
Dancing with the Stars airs Mondays at 8/7c and Tuesdays at 9/8 on ABC.
(Image courtesy of ABC)