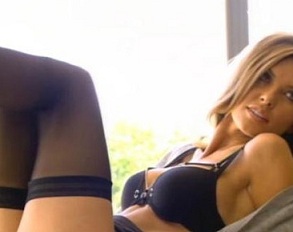 by Robin Hardwick
"Season Premiere"
The Audrina Patridge you may remember from The Hills is a thing of the past. Gone is the blank stare, the on-again-off-again antics with Justin Bobby, the sidekick status to Lauren Conrad, and apparently the facade of working at Epic Records.
The new Audrina has blond highlights and is now trying to make it on her own as a model/actress, but will she be able to with the antics of her kee-razy family? I can hardly stand to find out.
The family in question is based in Orange County (emphasized by the incessant stock footage of the "Welcome to Orange County" sign). Playing the part of her mother is Lynn Patridge, who may be taking mothering lessons from Dina Lohan. Apparently in October Hollywood.tv (yea, I hadn't heard of it either) "caught" footage of Lynn ranting about something. And it created controversy. Not sure about what. Marky is the younger brother, Audrina's bff, and "always the life of the party". And also may have tried out to be cast on Jersey Shore. The rest of the family includes Mark, the seemingly clueless father, Sammi, the baby of the family, and Casey. Casey is...well, more about that later.
We first see Audrina at a fashion shoot for a "bikini calendar." Which, I assume is a calendar of shots of her in a bikini. Be prepared for a lot of quotes in these recaps because there are very dubious terms used in this show. There is no doubt that Audrina has a smokin' body. She admits she's uncomfortable having to pose all sexy for the cameras. Poor baby. The upside, she notes, is that she can someday show the calendar to her grandkids. Whoa boy.

She also notes, via voiceover, that she is not sure that her boyfriend Corey will approve. Oh yea, Corey is a BMX biker who lives half the year in Australia. That must be an interesting arrangement, since Audrina is not exactly known for being a gifted conversationalist. Corey has lots of tattoos and handsomeness. I believe we may have first seen him on The Hills.
Audrina has dinner with her parents. Lynn is concerned that Audrina is "showing too much booty", but Dad assures her that it's fine. That would be borderline creepy if Mark wasn't so detached and clueless. Audrina informs them that she wants to move from her place in the Hollywood Hills because of paparazzi, "inmate mail" and likely because she is not contractually obligated to live there for her last show. Lynn is upset that Audrina is making this decision without her, and Audrina insists she doesn't have to get permission because she's 25, and Lynn starts crying, remembering her "notorious" rant caught on tape, and doesn't want to shame her daughter. I'm mostly upset because it looks like Audrina is ignoring her dinner of salmon and asparagus.
Audrina goes to look at houses with her brother Marky, who she plans on living with, because it's time for him to get out and be on his own. And what better way to gain independence than to mooch off your pseudo-celebrity sister? They look at three houses in and around Manhattan Beach. Marky gets stuck in an elevator and declares each house a "great party space". Audrina just wants privacy and normalcy. Here's a thought: if she wants privacy, is it the best idea to film yourself looking at your future home?
Family dinner at the Patridges'. Everyone is present and Mark cooks up some steaks. They discuss, what else, Audrina and her career. Dad brings out a cake and tricks Audrina into smelling it and then shoving it in her face. She's genuinely mad and it's fairly amusing. When Audrina announces that she's walking the runway at New York fashion week, her mom gets excited and Audrina asks her mother if she wants to come to New York with her. Audrina's younger sister Casey snots that she wants to go, and that Mom is "old". In a non-event that has been teased the whole episode, Casey and her mother squabble for a bit.
Casey, who has tattoos over most of her body, is "happily married with kids of her own." The fam asks her where her husband Kyle is, and she replies "at home with the babies". Which is an odd way to reply, and where else would he be because obviously the "babies" can't watch themselves. In an interview, Casey whines that Friday nights is her time with her husband and kids, and that since she has a family of her own, doesn't see why she has to spend time with her parents and siblings. Casey is a real peach.
This season on Audrina: Audrina parties, gets her picture taken, fights with Corey, fights with Casey, and ponders her crazy but amazing life.
Audrina airs Sunday at 9:00pm on Vh1.
(Image courtesy of Vh1)