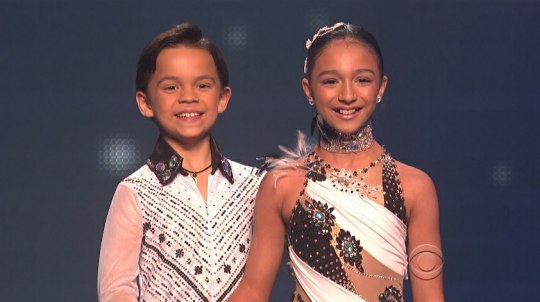 By Kristal Bailey

Tonight on Live to Dance, six more of the Top 18 perform to see if they win over the experts or America to move on to the next round. Also, we'll find out which performance from last week got the most votes from the fans to keep them alive in the competion.

Last week, the experts put the large dance group The Vibe through to the next round. Of the remaining five acts, D'Angelo & Amanda and Jittin' Genius got the most votes from America. America decided to keep the cute ballroom couple around a little while longer! They're just so cute, I can see why America loved them the most.

Paula Abdul mentored the acts again this week.

Jalen – This adorable kid is just so charismatic! Travis said that he hoped to see more tricks in the future, so he's been working hard to do more complicated moves and keep his energy up throughout the routine. Dancing to hip hop classics "Everybody Dance Now", "Hey! Oh!" and "Can't Touch This"  he set that stage on fire! His routine consisted of some complicated head slides, windmills, hollaback cartwheels, head spins, and fantastic floor work. Paula commended him for his dedication and thought he absolutely nailed it. Kids across America are watching him and getting inspired to dance. Travis loved that he came back with new moves, and said he's a joy to watch. He has another challenge for him, should he make it through to the finals: put more dance steps in there with all his tricks. This was an easy 3 Gold Star routine.

Dance in Flight – This real life couple started dancing together 18 years ago, but went their own ways. Then, 10 years ago they reunited and have been together every since. While they're older than the average dancer, they are still dancing, still putting those acrobatic and challenging moves into their routines. They open the routine with a cute pink panther/cat storyline, then tied it together by dancing to Paula's hit "Opposites Attract" with MC Scat Cat on the back screen. Travis didn't love their routine though because he found the lifts sluggish and that this wasn't as good as their audition routine. Kimberly admire what they bring to the stage, the fact that they live to dance, but did notice some trouble with Kate's lines. Paula saw improvement in their technique and pushing through their moves, giving them 2 Gold Stars.

Twitch – With 8 girls and 1 guy, its no surprise that they all had a crush on him at one time or another. This routine has him end up with one girl though, because that's who he's dating. Dancing to "Apologize" by One Republic, they completely lived up to Paula's high expectations. She loved how open they were to her mentoring, how they pushed themselves to move mountains on that stage. Travis couldn't find anything wrong with that performance and thought they raised the bar on the whole competition. Kimberly commended them for their ability to tell a story through abstract movement, but absolutely loves their commitment to every move. Another case of an easy 3 Gold Stars.

Du-Shant Stegall – As the new kid in his school, dance is key to who he is and how people know him. Dancing to "OMG" by Usher, he had a lot of energy and did fantastic isolations and waves. Kimberly thought the whole performance fell a bit flat by the end, giving him a Red Star. Paula loves his potential, but thinks he needs to learn a bit more before he's ready to be among the best hip hop dancers. Travis could definitely see that he has a limited repetoire, but encouraged him to get back into classes and just start learning from everyone and anyone. Unforetunately, he's the first 3 Red Star performance of the night. He'll have to hope America loved him a lot more than the experts.

Dax & Sarah – Another real life couple and dancing couple! Unforetunately, Dax suffered from a back injury this week so they had to adjust their routine a lot to accomidate his limited ability. Dancing to "Me No Speak Americano" by Yolanda Be Cool D Cup they started out slow but quickly picked up to the speed of what you would expect from Lindyhop. And while they couldn't do any fancy lifts or tricks, they do have great footwork. Paula believes that despite injury, they still entertained. Travis was bored, especially in the beginning. Kimberly disagrees with Travis completely, and loved that they updated the Lindyhop a bit by picking a different song choice but sticking to traditional Lindyhop moves. The experts are split and give them 2 Gold Stars.

White Tree Fine Art – America wanted this group in the semi-finals, so they feel their challenge is to make sure that America feels they made the right choice. Dancing to "Hallelujah", they earned a standing ovation from Kimberly. She's so in love with them for "bringing little girls' dreams to life" and quickly gives them a Gold Star. Travis appreciates their lines and technique, but never gets as excited by them as the others. Paula loved that they never complained in the rehearsal process, when they decided to have them fly with that red fabric, when she pushed them to do more, and when they had less notice and time than the others because of their last minute inclusion.

The experts couldn't get to a unanimous decision, but ultimately decided that White Tree Fine Art would move to the finals. I'm very surprised by this decision, since there were 2 performances that got 3 Gold Stars that now have to fight for America's vote.  I guess Paula and Kimberly fought harder for them than Travis did for the other acts.

Tune in next week to see who America votes through to the finals, as well as the last six performances of the semifinals.


Live to Dance airs on CBS Wednesdays at 8/7c.

(Image courtesy of CBS)


Follow Kristal @kristal_bailey

For more Live To Dance links, visit SirLinksALot.net