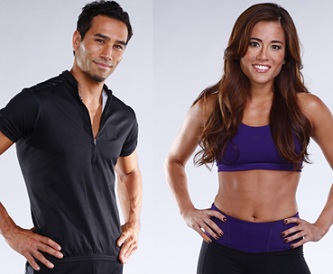 by Gina Scarpa
At long last, The Biggest Loser revealed the two new trainers who have been referred to as the "unknowns" up until last night. They are Brett Hoebel and Cara Castronuova and they're training a group of contestants who opted for 4 weeks of immunity instead of working with Bob and Jillian. The expectations were high and in week one, Brett and Cara delivered - their team shattered records and destroyed the other players at the ranch. Today, we got to hear from the new trainers about stepping into Bob and Jillian's world and find out more about their training styles.
Q. Gina, RealityWanted: Did you feel any pressure coming into the show as the new trainers?
A. Cara: Of course, there was some pressure coming onto the show. Bob and Jillian have been doing this for 11 seasons now. They're iconic. They're the best. It's an honor to train alongside the best. That's only going to make me better and make me want to fight harder. Yes, it has been intimidating. Bob and Jillian are just great. I'm grateful that they're here.
A. Brett: There's a feeling of wanting to look at Bob and Jillian, two of the greatest trainers. They have inspired America. Coming in, I want to do that. I want to inspire America. It's not a competition. We want them to be in great shape. We want to keep that expectation.
Q. Gina, RealityWanted: Last night, when the teams competed against each other in the challenge, Bob and Jillian's contestants were calling your people "the bad guys". How do you feel about being referred to as "the bad guys"?
A. Brett: They're coming in the black vans and we're the unknowns. It's fun, it's mysterious. We're down to earth people, though. Our contestants are great people. We're the underdogs is the reality. We're not the bad guys.
A. Cara: We have a lot of guys who are real tough guys but they're big softies. They're gentle giants, I like to call them.
Q. How did you make the decision to come to The Biggest Loser and compete against the skills of Bob and Jillian?
A. Brett: They've been casting for the show for almost four years. Every year, I kept going out for the castings. I've been pursuing it for quite a long time. One thing that I bring to the table is that I was working with Jillian and training her in Capoeira when she came to New York. She got me to the front of the line and that was good. The casting people already knew who I was and then Jillian helped get me that final interview. That's how I got into it. They have been casting for it for quite some time. I don't feel that I'm in a competition amongst trainers. We're in a four person coalition. There is a competition amongst the competitors the way the game is set up but I don't feel I'm being pitted against my friend, Jillian, or Bob. 
A. Cara: For me, it was a no brainer. I'm a fan of the show. I don't watch tv but I went online and I watched a bunch of episodes. I was so touched and so inspired by the contestants on the show. I just fell in love with the show. It worked out that I got the job and it's been amazing. Being able to translate fighting into doing good and helping people has been the best part.
Q. How difficult was it to keep the secret that you were the unknown trainers?
A. Brett: It was difficult. When I got the word, it was surreal but a little anti-climactic. 
A. Cara: It was totally hard! I came out to LA from New York and everyone wanted to know why. I told my close family but that was it.
Q. What do you bring to the table as trainers?
A. Brett: What I bring to the table is a little NYC in the house. Both Cara and I are from New York. You're gonna get the real deal. I have a pre-med background. You're gonna have someone that really walks the walk. I was an overweight kid and came out on top because of training, nutrition, and self-work that I did on myself.
A. Cara: I'm able to empathasize with the contestants and work with them. I have a fighter's mentality and that's what I like to instill in the contestants. I like to surround myself with the best and I consider Bob, Jillian, and Brett the best.
Q. Do you have prior experience working with morbidly obese people?
A. Brett: No. I think Cara and I have both had overweight clients but this was a different population. Cara is a fighter and she's going to bring the fighter out. I'm applying the science because it's different if you're 474 pounds, than 100 pounds.
Q. How have your training styles led to the unknowns losing so much weight?
A. Brett: Even if you have a great technique, it really depends on the individual. We have an amazing group of individuals underneath our watch. To get that individual to transform, how do you motivate them when you're not two iconic trainers? You don't have ten seasons under our belt. Cara and I walk the talk. The only way you're going to get people to perform is if they're inspired by you.
A. Cara: It's mental. We instill the warrior mentality in them. We trained them hard from day one. The contestants all have heart and we have to bring it out of them. We have to show them that they can never turn back. We make them mentally strong and show them that they can do anything.
Q. If you had to describe your training style in one word, what would it be and why?
A. Cara: I'll say "hard". I like to push the contestants as hard as they can possibly go to show them how strong they are. I like when they say they can't do something because I like to prove that they're more capable than they thought. Just "hard" with a capital H. Actually, bold. H-A-R-D.
A. Brett: I'd say "transformational". The intensity is one thing for me but the bottom line with the training for me is that I've gotta transform these people mentally, emotionally, and physically. There's a lot of tools you have to have. You gotta transform people,
Q. Do you indulge yourselves sometimes?
A. Cara: We're people. We're human beings. We indulge ourselves once in a while but it's in moderation. I'm not starving myself. I'm constantly feeding my metabolism.
A. Brett: I learned a lot of these lessons through martial arts. It's about balance. You have a high calorie day and then you train harder the next day. One thing I know for sure - if you think of exercise as a 60 minute commitment, 3 times a week at the gym, you're missing the point completely. If you think that going on a diet has something to do with nutrition, you're missing. You don't see the forest through the trees. It's a lifestyle. Having a nutrition regiment is something you have to integrate into your life.
The Biggest Loser airs Tuesdays at 8/7c on NBC.
(Image courtesy of NBC)

Follow Gina @ginascarpa
For more Biggest Loser links, visit SirLinksALot.net