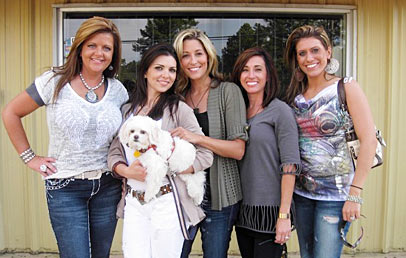 by Danae Young
This week on the season premiere of Bama Belles, the new girl Val is here to stay and Dakota surprises everyone after disappearing for four months!
Four women come together at completely different crossroads in their lives to share their relationships with each other, their families and their jobs.
Amie has been married to her husband Ron for 21 years. She is a woman who loves the country life and is not afraid to show it.
Jana has been married to her husband Grant for about three years now and they are having a lot of difficulty making a baby.
Melissa and Frankie have been married over eight years. They live in their lake house where they sell luxury boats. But, because of the horribly economy, Melissa currently has two jobs to help out her struggling family.
Melissa and her family had a photo shoot at their house for a magazine. Jana and Amie went over to help do her hair and makeup for the shoot.
Throughout the shoot, Melissa and Frankie's son Grayton, 7, was not cooperating at all and it was driving Melissa crazy.
Jana and Grant may be having baby problems, but right now Jana's biggest problem to date has been Grant's mother. They have never really gotten along well, but with Grant's birthday coming up, Jana had to suck it up and deal with her mother-in-law when she came into town.
Jana had to pick her mother-in-law up from the airport, which made her very nervous. Needless to say, the drive home was rather awkward.
Amie works at the local radio station where she is a radio DJ. Val came to the show to see what it's like being in the south to help the website she has. It became clear to Amie that Val has no idea what the south is like, so she invited Val to stay for awhile.
Amie had a demo house Val could live in and Val loved it, minus the ram head on the wall staring at her while she sleeps. Yikes!
The girls all went hunting early the next morning. Val was, well, how do I put this lightly? Val was not exactly dressed the part. She even brought along her little puppy and she dressed him up in a cute camouflage outfit.
Val changed out of her New York outfit and into a camouflage suit as well so she fit in a little better.
Amie starting getting really upset with Val because she kept goofing off instead of taking the hunting more serious.
At Grant's 33rd Cowboy and Indian themed birthday party, Amie's neighbor Josh, a true southern gentleman, was there. Amie thought it would be a perfect idea to introduce Josh the rodeo cowboy to Val so he could show her what the south is all about.
To give you a little idea of how crazy this part got, Hector the Donkey was the special guest of the night.
Dakota, the wild child of the group, returned to Alabama after being gone for four months. She disappeared unexpectedly and divorced her husband.
Amie offered Dakota her guesthouse to stay in until she figured everything out.
Melissa works her second job at a company that sells pace makers for the bladder. She was up for an important fulltime position, but unfortunately she got the call that she didn't get it.
Jana took her mother-in-law out to lunch for one last shot at bonding with her before she left and they actually got a breakthrough in their relationship. Good for Jana for making the extra effort!
Catch an all new Bama Belles every Sunday at 10/9c on TLC.
(Image courtesy of TLC)

 
Follow Danae at twitter.com/danaeyoung
Find Amie on RealityWanted