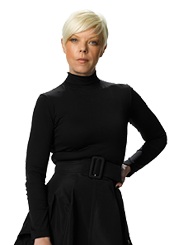 by Gina Scarpa and Mike Bandy
Next Monday, Tabatha Coffey returns for the third season of her hit Bravo show, Tabatha's Salon Takeover. She first caught the attention of Bravo viewers when she won "Fan Favorite" on the first season of Shear Genius back in 2007. Since then, she has gone on to land her own show, in which she travels across the country and visits struggling salons to whip their stylists into shape. Today, we spoke to Tabatha in a press conference about the upcoming season and what viewers can expect when they tune in starting next week.
Q. Gina, RealityWanted: Going into your third season, how do you keep things fresh on the show?
A. Tabatha: The thing that I really love about the show is that it's always fresh for me. Every salon that I walk into is totally different and has its own set of issues. It really changes. Every single salon that I walk into has a new staff, a new location, a new problem, a new feeling or vibe to it. That just happens naturally. It always keeps it very fresh. Every salon I walk into, I have to forget about the one that I was just in. I walk in with a fresh set of eyes to help that business on that day and get to the bottom of their issues.
Q. Gina, RealityWanted: When salon owners and employees do not react kindly to you, do you ever take it personally?
A. Tabatha: I don't take it personally. It frustrates me, as you all can see. I don't hide my frustration. I don't take it personally. It is business and I try to understand that I have a very small window. I'm very direct with people. I don't want them to take it personally. I want them to see what they need to do to make changes.

Q. In the upcoming season, what was your craziest moment?
A. Tabatha: They're all a little crazy in their own way. I think the craziest is when we went to Provincetown. It had a lot of challenges and I have never seen a stripper pole in the middle of a salon. That was definitely my craziest moment! They would receive a dollar off for every minute they spent on the pole. It wasn't a great marketing tactic at all.
Q. What is your advice for a stylist looking to open a new salon?
A. Tabatha: I think if a stylist is opening a business for the first time, it's really preparation. Some people think, "I'm great at what I do and that's enough to carry me through." You need a solid business a plan, a company statement, you've thought about a good location, and the demographic of your clients. It's great to have a great skill and passion but you need to make sure that you've really laid it out on paper. You need to have a true vision of what you want your business to be.
Q. Is there something you see salon owners consistently doing wrong?
A. Tabatha: I think a lot of salon owners become overwhelmed and give up. Any business that you have to manage is a constant reiteration of rules and staying on top of things to make sure things are done the way you want them to do. I think a lot of owners feel bad telling people how they want things done or they feel like they're babysitting and they don't want to be active in their business. Instead of being proactive, they kind of throw their hands up and give up a bit. Things spiral out of control from there.
Q. Is there anything you've learned from doing the show that you've applied?
A. Tabatha: Absolutely. I learn all the time. When I walk into other people's businesses, I'm aware that I need to make sure to thank my staff or make sure clients are getting a great experience. Sometimes it's juts realizing that you need to step back for a minute and take a break so that you don't feel overwhelmed. For me, it's always a learning experience that helps keeps me on my toes.
Q. You are a very confident woman. Is that a skill that you learned or do you feel that's inherent?
A. Tabatha: That's a great question! I think it's both. When I was younger, I obviously didn't have the same confidence. I think confidence comes with age and experience. I think it comes from caring about what you do. When you're really passionate about what you do, it helps to build your confidence. I think it's a little of both. I think I have become more confident through the years but when it comes to my hairdressing, I was always confident with that. I truly loved every facet of the industry. That got me through any rough patches during my training experiences when I was young.

Tabatha's Salon Takeover premieres Monday, December 6th, at 10/9c on Bravo.
(Image courtesy of Bravo)

Follow Gina @ginascarpa
For more Tabatha's Salon Takeover links, visit SirLinksALot.net