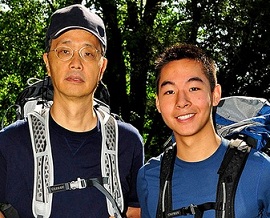 by Gina Scarpa
Last night, on The Amazing Race, Michael and Kevin ran into a few problems in Russia. First, they misread two clues and incurred penalties for having a cab lead them to one cluebox and riding in a cab to another. Then, Michael struggled on the Road Block involving a Russian version of bowling. When they reached the finish line seconds before Chad and Stephanie, their hour long penalty was too much and they were eliminated from the race. Today, we spoke to the father-son team in an exclusive interview about their experiences on the race.
Q. Gina, RealityWanted: Whose idea was it to go on The Amazing Race?
A. Kevin: It was both of our ideas. We both wanted to do it, me probably a little bit more. At first, I had to build my dad's confidence to say, "You can do this!" He believed in himself so once we auditioned and they liked us, we were on board.
Q. Gina, RealityWanted: What kind of preparation did you do beforehand?
A. Kevin: Any team who said they didn't prepare is lying. We did our best to prepare with personal trainers. We worked on being mentally focused.
A. Michael: I was doing the weights! I tried to do my best physically.
Q. Gina, RealityWanted: What was the most surprising thing about actually being on the race, as opposed to watching it on tv?
A. Michael: To see Phil in front of us!
A. Kevin: The most surprising thing ... it's a different experience. Yes, it's a race and sometimes, you don't get to enjoy all the places you go to but the show really does a great job of portraying things and showing the adrenaline. It's a pretty accurate portrayal.
Q. Gina, RealityWanted: Was there a team that stood out to you as the biggest threat?
A. Kevin: Honestly, all the teams were very strong this season. Everyone knew that everyone else was strong and there was no one team that stood out.
Q. Gina, RealityWanted: Teams are often hurt on the race by taxi drivers. Was last night's taxi driver the worst experience you had or was there something else that perhaps we didn't see?
A. Michael: That was the worst!
A. Kevin: As far as taxi drivers go, we were pretty luck and fortunate. In Ghana, we had good taxi. Most of the places we went to, we had favorable drivers. Knowing it was between us and Chad and Stephanie and we were delayed, which could cost us... we had no idea we were going to be penalized. We finished 5 seconds after Chad and Stephanie.
Q. Gina, RealityWanted: You weren't the only team to incur a penalty last night. What was all the confusion about? Was it because there were so many clues?
A. Michael: At least for me, it was the amount of clues.
A. Kevin: For most of the leg, we had to do this thing called "Solve a Russian mystery". On the bridge, we got a clue. On the tower, we didn't get another clue and we weren't sure if we had to walk away. The building was 5 miles away. We assumed we should drive. It looked so far away! There was definitely confusion.
Q. Gina, RealityWanted: What did you learn about the other from being on the race?
A. Michael: For me, Kevin complained a million times I treated him like a teenager. This race made me realize he's a grown up person. I think we committed to what he wanted to do and he can handle the stress much better than I can.
A. Kevin: I learned that my dad really cares about my well being. He's a very considerate person. For him to do the show with me... I don't take that for granted. We did well. I think a lot of people were surprised that we stayed seven legs. I thought we could've done even better. We can't take it for granted that we were in the race for 7 out of 12 episodes.
Q. Gina, RealityWanted: Is there anyone that you're pulling for now?
A. Kevin: We like all the teams but during the race, we sort of grew a liking towards Gary and Mallory. Throughout the race, they were one of the few teams that we could trust.
Q. Gina, RealityWanted: What are you two up to now? Are you back to your regular lives or do you want to do more television?
A. Michael: I'm back to my regular job.
A. Kevin: We came into the show with a pretty good fanbase. They're sad to see us go and a lot of people were messaging me afterwards as if we died or something. We're still going to be entertaining them. We want to keep our viewers happy

The Amazing Race airs Sundays at 8/7c on CBS.
(Image courtesy of CBS)

Follow Gina at twitter.com/ginascarpa
For more Celebrity news check out TheCelebrityCafe.com