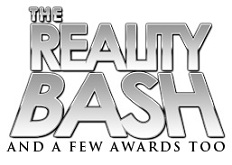 by Gina Scarpa
Tomorrow night, The Reality Bash will take place at Industry in Los Angeles. Reality television's biggest stars will come together to party and receive awards, with the night hosted by MTV's Mark Long. Guests include stars from The Real Housewives of Atlanta, Keeping Up With the Kardashians, Jersey Shore, The Hills, Dancing with the Stars, The Apprentice, Big Brother, Amazing Race, American Idol, Real World/Road Rules Challenge, So You Think You Can Dance and many more. Today, we caught up with one of the event's planners, David Graham, to find out more about reality tv's hottest event!
Q. Gina, RealityWanted: When and why did the idea for the Reality Bash come about?
A. David: The idea came about two ways. I co-produced the official after-party for the Fox Reality Channel Really Awards in 2008 and 2009 with MTV's Mark Long. We worked with Memphis Garrett from Big Brother, who is Industry's (formerly Area's) General Manager. Memphis asked me a few months back when we were doing the party again (The Really Awards After-Party). I explained Fox shut the network down and he said, "Why don't we have the party anyway?" That is where the idea started and here we are - the week of The Reality Bash & A Few Awards Too.

Q. Gina, RealityWanted: I've heard that, so far, over 200 reality stars are planning to attend. Were there specific people you were looking to get there?
A. David: We were, of course, looking to do something that The Really Awards failed to do the last two years, which was to invite a majority of the reality community to the event. We would love to see a Kim Kardashian or a Paris Hilton attend, but we also want an environment where everyone is equal, treated the same, and no one is off limits. We've strived to create an event that is first and foremost a party to celebrate reality television, second a press event and third an award show. We would have called this event "The Reality Party," but we didn't see it being taken seriously among the media in Hollywood.

Q. Gina, RealityWanted: What was the reaction of the reality stars when they found out you were hosting The Reality Bash at Industry?
A. David: The reaction among the reality stars has been nothing but positive about the event, the location and most of the events' attributes. We feel (Mark, Memphis, Pam Baker & Kelley Jackson) that Industry gives us an intimate space that is large enough to house a majority of the reality community. The space is ideal because this is a celebration of all things reality. We want everyone to interact with one another, meet one another and enjoy one another.

Q. Gina, RealityWanted: You guys are hoping for a fun night that's drama free. Is that even possible with a room full of reality stars?
A. David: We're hoping for a night of zero incidences, but hoping for a drama free night would eliminate the entire mystique of the party. Reality tends to mean drama, but what we hope is that everyone's differences, energy and "drama" will cultivate into a great night of high energy, surprise and eventually when the video makes it way to our YouTube channel www.nakidreality.com (this will directly link you to our YouTube channel) that the fans will get to see a great night for reality television.

Q. Gina, RealityWanted: What kinds of awards will be given out?
A. David: We are giving out awards that will have a very "fun" and "humor-inspired" theme to them. The awards are meant to be light-hearted and not at all serious. We just want to extend the theme of "fun" and "party" of the event directly into the awards. We think everyone will see the awards are well-deserved and will end up in the hands of the right people. We don't want to give any specifics away yet, but watch Nakid Reality on YouTube and you will see footage of the winners.

Q. Gina, RealityWanted: Who are you most excited about that is attending?
A. David: We are very excited about Angelina from Jersey Shore making her way out from the East Coast to attend the Reality Bash. We are also excited about Jayde Nicole, the Girls of Rock of Love Reuniting and a lot of very fun people from Real World, Apprentice, Big Brother, Survivor, Amazing Race and so on coming together for one great event.

Q. Gina, RealityWanted: How can fans find out about what happens at the bash next week?
A. David: We are going to put all of the footage on www.nakidreality.com or YouTube.com/NakidReality. Fans can access the YouTube Channel both ways. It will takes us a few weeks to put it all on there, but we will do our best to get it up very soon. We also have YouTube sensation Keenan Cahill aka BeenerKeeKee19952 who did a duet with our host Mark Long to Michael & Janet Jackson's Scream. Keenan is blowing up with over 140,000 subscribers and offers pouring in, so we were honored he would partake in our event. We are very confident that great websites like RealityWanted.com, TMZ and other blog sites will carry numerous stories about The Bash for the fans to enjoy.