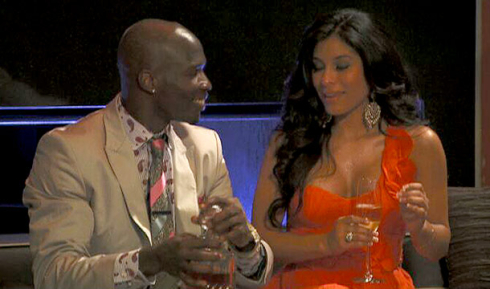 By Jackie Helm
Last night on Ochocinco:  The Ultimate Catch, the Super Bowl game was played and a big phat championship ring was won.  Rubi vs. Brittany!  Rubi was Chad's #1 pick from the start.  She was also my favorite from the get go.  She's an overall stunning woman who had gained great chemistry with Chad.  The only issue is a slight slack of communication.  And I still can't get over that she's never dated a black man.  On the other hand, Brittany keeps it live.  She's feisty and fun, but I just don't think she holds a candle to Rubi in physical appearance and persona.  Chad's big hang up with Brittany was her ex-husband with whom she has a son.
Both girls spent an entire day AND night with Chad.  After dinner, Chad's suite was where the date ended.  Did they get down?  Rubi claimed they only cuddled but Brittany wouldn't kiss and tell!
Chad's final advice came from the woman who raised him – his grandmother.  Grandma chatted with each girl individually.  She got a good vibe from Rubi but thought she may be a little too sweet.  She got a good long history from Brittany but thought the kid/ex-husband thing might be an issue too.  In my opinion, he was milking the "kid" thing and it the obvious winner would be Rubi.
At the not-so-nail-biting elimination ceremony, Chad attempted to trick us.  He gave Rubi all props but wondered if their fired up physical connection would fizzle out over time.  Other than an occasional awkward convo, Rubi was a true gem.
Chad revisited Brittany's baggage issue and Brittany put it to him straight.  She said trust me like I have to trust you and keep it moving.  Chad liked that spunk and went on to say that he and Brittany never ran out of things to talk about.  GASP!  Does that mean Brittany would win?
Heck no.  Chad called Brit forward and fluffed his goodbye speech with compliments.  He went on to say that their two lives meshed would be a recipe for disaster.  Bye-Bye Brittany and congratulations Rubi!
With that, he slid one piece of beautiful bling onto Rubi's finer and said he was excited to start this "thing" with Rubi as she was his ultimate catch.  We'll see!!!
Ochocinco: The Ultimate Catch airs Sundays at 9/8c on VH1.
(Image courtesy of VH1)
Follow Jackie at twitter.com/justjackieshow