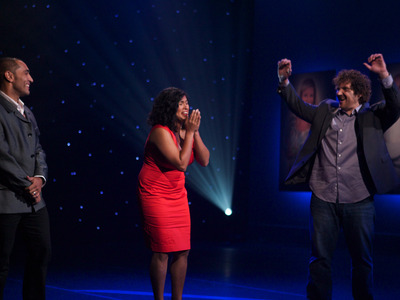 by Chandra Clewley
This week, we witnessed the finale of The Next Food Network Star. With so much talent, it is unbelievable that the executives at Food Network could even make a decision, but when they did, it was the charm, the sweetness and the ability to introduce the public to something new that really put Aarti Sequeira over the edge and into the realm that celeb-chefs like Guy Fieri live in. Aarti, an LA local, and an avid food blogger sat down to speak with Reality Wanted today about what it was like to win this amazing challenge!
Q. Chandra, Reality Wanted:  Tell us a little bit about your food and culinary experience before you went on the show?
A. Aarti Sequeira: It's all relatively new to me.  I always wanted to be a journalist, I went to school to be a journalist and I worked at CNN for a few years and worked on a documentary about Darfur on HBO that was amazing, but there was always something missing.  I didn't wake up in the morning going "yay! I am going to go do the news!"  But I did wake up going "I can't wait to make lunch!" When we moved from New York to LA my husband noticed how much I loved food, and how much I enjoyed cooking. He put me in this part time cooking program in the neighborhood and that really taught me how to cook and how to be free from recipe books, and that is when I first started writing my own recipes and blogging. It just kind of went from there! I started doing this online cooking show called Aarti Paarti and from there I applied for The Next Food Network Star and here I am!
Q. Chandra, Reality Wanted: What was your most favorite challenge of the season?
A. Aarti Sequeira:  I really loved the Food Truck Challenge. I loved working with Tom on that one, and I love food trucks and it was such a genius idea, but my favorite in retrospect was Iron Chef.  When I walked in there and there was knives on the wall, and I saw Morimoto, I was like "Oh my gosh, there is no way!"  But having aced it, it was my favorite challenge! To really test yourself that way and you have no time to think about it, you just have to go into it, and then to have your instinct pay off in such a huge way and to have chefs of that caliber to say they not only liked your food, but the loved your food, I mean I could never have predicted that for my life and it made me feel really strong going into choosing my own show, which starts this Sunday! 
Q. Chandra, Reality Wanted: Indian food is very intimidating. On the show you mentioned that you would show us how not to be intimidated by it. What would you say are the main flavor profiles for Indian food and why do you think people are so intimidated by it?
A. Aarti Sequeira:  Indian food uses a lot of spices that we are not familiar with because they are just not a part of the American food palette. All of these spices are available at the supermarket, you can get cumin, fennel, coriander, turmeric, it's all there, and it's just learning how to combine them. I am hoping by stripping the recipes down to their bare ingredients, that it will really help people to understand what turmeric (for example) tastes like.  I am excited because I am doing things like Sloppy Joes with a Chicken Tikka Masala sauce so we are doing two recipes in one, but taking the intimidation out of Indian food!  I can understand the intimidation factor, but Indian food doesn't have to be complicated nor spicy! India is a huge old country and there is not one curry! 
Q. Chandra, Reality Wanted:  Did you have a favorite celebrity chef that you had always wanted to meet?
A. Aarti Sequeira: When I met Paula Deen I about lost it! I just loved that she is so charming and she is nothing other than who she is when on camera. She makes mistakes, there is something very natural and accessible about her and it was really cool to meet her! And her eyes are so blue!
Q. Chandra, Reality Wanted: Part of your struggle this season was your own self-doubt. Now that you have won, is that all out the window?
A. Aarti Sequeira:  I think there are probably a few grains left but I don't think that I have any more than anyone else does. This is such a powerful victory because now when that doubt does start creeping up I can say "You know what, you won The Next Food Network Star! You have nothing to be worried about"  It's evidence and proof, and I have that journalistic side where I need the proof, and this is my proof.
Q. Chandra, Reality Wanted: What was the most intimidating challenge for you?
A. Aarti Sequeira: The Beso challenge was really intimidating because I didn't know how to be creative with fear!  And to serve Todd English and Eva Longoria was intimidating, and the restaurant is so huge and dramatic, you walk in and you feel really small! 
Aarti Party premiers Sunday, August 22nd and 12 noon on The Food Network.
(Image courtesy of Food Network)
Follow Chandra at http://twitter.com/ChandraClewley
For more The Next Food Network Star visit Sirlinksalot.net