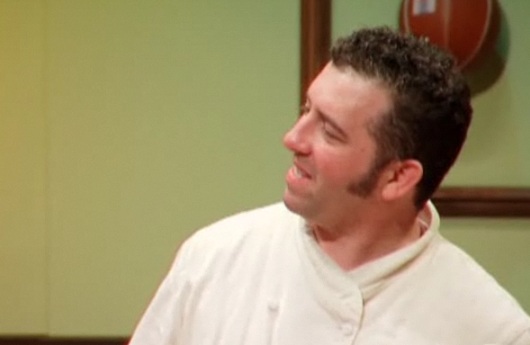 by Chandra Clewley
Tonight's 24 Hour Restaurant Battle has two teams are both best friends with dreams of opening a restaurant. Danushka and Angela plan on opening a restaurant called Relish, while Mark and Charlie want to open a restaurant called Amici.  Like always, the teams have to design a concept, a menu, the décor and manage a wait staff. Amici gets a slower start, and never makes a grocery list when they go shopping. Mark sort of guesses on the amount of food and what he wants to make while at the store, while the girls on the other team stay focused and organized. Relish will be a Nostalgic American restaurant while Amici will be Classic Sicilian with New England Flair. Charlie starts to get concerned that Mark has too many menu items but he trusts him in the kitchen.
Over at Relish, Angela has bought the décor while Danushka works a bit slower.  When Angela returns with the items there is still a ton of work to be done and she jumps in to make dessert. Their menu will be appetizers of an Iceberg Wedge Salad and Fried Cauliflower, Entrees of Asian Meatball Subs and Pasta with Vegetables. For dessert they are serving Semolina Dream, Warm Chocolate Chip Cookies and Rice Crispy Treats. While Angela is struggling to get everything together, Scott visits and suggests that she focus on décor. Then, when her Semolina Dream comes out crumbly, it is another wrench for them.
Meanwhile, at Amici, Mark has pulled an all nighter and the appetizers will be House Salad, Rigatoni with Clams, Saffron Arancini, and Polenta Cake with Roasted Mushrooms. The entrees are Gnocchi with Pesto, Braised Lamb Shank, Pork Chop Seared and Seasoned and Pancetta Wrapped Cod. For dessert they will serve Almond Crusted Pannacotta, Whipped Ricotta with Berries, and Strawberry Gelato. Scott visits Mark and thinks there are way too many things on the menu and he should edit it down. Mark takes his advice to heart and cuts the gnocchi.
When the doors open, Amici fills up very fast and pretty soon has a wait list working too. Relish is much slower, and people are saying it is because the menu isn't as compelling. People are just in love with Amici's lamb shank. So much so, that it is 86'd during the rush. Then the pork chop is 86'd. Then the Rigatoni. Turns out that that grocery list could have come in handy. Mark and Charlie are very disappointed.
The judges go to Relish first. Danushka presents the appetizers and throws her servers and Angela under the bus for not communicating with her better. The judges feel uncomfortable that Danushka would say this to them. Everyone likes the pasta, but the Rice Crispy treats are boring and need something unique. In the end, the menu wasn't expansive enough.
The judges then visit Amici. They, like all of their guests, love Charlie, who is great in the Front of the House role. When Charlie and Mark mention that they didn't make a list, the judges think that having no time to make one is a poor excuse and really they didn't have the time NOT to make one.  Also, Mark pulled one of his signature dishes, the gnocchi, and should have killed the pork chop instead, since it was much more basic and not something he was really in love with. The judges think he was too concerned with what other people though and didn't go with his gut as a chef. 
In the end, the winner of the challenge is Relish, which is quite a surprise to everyone (including me!) since it seemed like Amici was MUCH more popular with everyone including the judges. I guess it isn't okay to 86 food. Someone should tell that to ALL of the restaurants I have worked in!
Catch an all new episode of 24 Hour Restaurant Battle next Wednesday night at 9/8 c on The Food Network
(Image courtesy of Food Network)
Follow Chandra at http://twitter.com/ChandraClewley