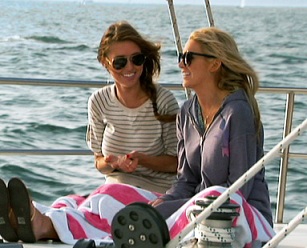 by Michelle Spigner
"Break-Up to Make-Up"
On this week's episode of The Hills, for Audrina, the end of one relationship could mean the beginning of something else great.
Lo, Audrina, Kristin, and Stephanie go out to lunch. Audrina explains why she broke out in tears and left Ryan's concert. She was just so overwhelmed because she knew things weren't going to work out between them. She made a list of pros and cons about the relationship and doesn't think the pros could outweigh the problems.
Audrina's birthday is coming up so Kristin, Lo, and Stephanie decide to plan a boat ride in Marina del Rey. The girls question if they should invite Justin. Kristin feels that, no matter what, Justin and Audrina will always be in each other's lives. But Lo feels like Justin might take advantage of the situation. With things going poorly with Ryan, Audrina just might jump at the chance to be with him again even though she's not ready. The girls wish Justin would just grow up already so he and Audrina could be together and happy.
The gang goes out to a club that night. Again, McKaela shows up with Allie, Brody, and Kristin's archenemy. McKaela doesn't even want to go up and say hi, but Allie is determined to start some drama again. Allie goes over and talks to Kristin, who tells her that she hates her because of her drama with Brody. Allie again denies that she broke into Brody's house and that she was only trying to find her ring that someone took from his house. When Kristin starts to put her hands in her face, Allie gets up and leaves. Kristin is so upset that she leaves the club.
Kristin goes to Smashbox Studios where Lo and McKaela work to meet Lo for lunch and she gets a chance to chat with McKaela. Kristin is still mad that McKaela keeps bringing Allie out with her. McKaela basically tells Kristin to get a life because her world is obviously too small if Allie is her biggest problem.
Audrina goes to Ryan's house to talk. She doesn't feel like things are going smoothly. Ryan wants to make things work, but doesn't know how to fix the problem. Audrina thinks that all hope is gone and just wants to be done with the relationship. After a few seconds of staring at each other, she leaves. So I guess that's it.
Kristin meets Justin for dinner. Justin has been talking to Audrina and told her that he is there for her. When Kristin invites Justin to Audrina's party, he is hesitant to accept because he doesn't want to intrude but she feels that he should come and just reach out to her.
Audrina comes to visit Kristin and she tells her that she and Ryan officially broke up. She feels better now, but Ryan still wants to talk and work things out. Kristin tells her that she invited Justin to her party because she feels that he still likes her.
Everyone arrives at the marina for Audrina's party. They all get on a fabulous sailboat for an evening cruise. Ryan has been texting Audrina, telling her that she made the wrong decision and that she should reconsider. But she is still set on her decision; they're through. She celebrates her 25th birthday with cupcakes and candles and is happy that everyone could celebrate with her drama-free.
Later, Audrina and Justin catch a moment alone. She tells him about her recent break-up. She feels that she learned a lot from dating Ryan and a lot from she and Justin's relationship as well. Justin thinks that they are both together and single for a reason, and that they're in a good place.
The Hills airs Tuesdays at 10/9c on MTV.
(Image courtesy of MTV)

For more links on The Hills, visit SirLinksALot.net