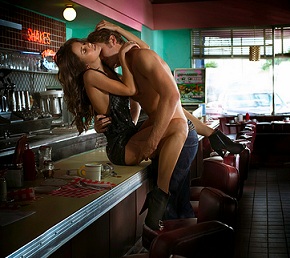 by Kristal Bailey
Last night, on Double Exposure, we got an inside look at a photo shoot with Lindsey Lohan. But first, Markus and Indrani are still in Los Angeles, shooting with Dita Von Tess, star of The CW and Flaunt Magazine.
The first shoot of the episode is of Jessica Stroup and Armie Hammer for a Flaunt Magazine fashion editorial. The key to fashion magazine editorials is that they need to tell a story. Flaunt, in particular, wants a raunchy, sensual story where the sex comes flying off the page.
While Markus and Indrani fight over equipment sensitivity, ideas, etc., GK Reid swears that their bickering and fighting leads to great photos. So while frustrating and annoying, ultimately, it's worth it.
The best feeling in the world is to be desired, so Indrani encourages Markus to flirt with their subjects. Sometimes, though, he wants to take it past the photo shoot and that's not always best for him or their professional relationship. This episode focused on Markus' love life, leading to some drama between him and Indrani. While they work well together, they never forget their romantic past.
Jessica and Armie are getting hot and steamy - her legs wrapped around him, her tugging off his shirt - and the lighting is bringing out the sensuality even more. While it got hot in the diner, they're kicking it up a notch in the bedroom. The publicist on set is worried it'll be too sexy for her client's CW-aged fanbase. They have to tread the line of sexy and erotic with this shoot. They make the women into a goddess, a symbol of female superiority.
Indrani may be "the bitch" of the shoot, but she makes sure everything gets done on time and in the way it's needed.
The last setting is on the train tracks with the setting sun. Just when they hit a groove, a train derails their plans. They have to get off the tracks, but they end up with an amazing shot of Jessica just off the tracks while the train whizzes by. This is definitely my favorite of the shots tonight.
Indrani walks through the post production process - she used two images to get the right expressions from both actors, upped the contrast to bring out the shadows, and then turned it black and white. She spends the night going through the film from the day and editing select photos.
Meanwhile, Markus is out on a dinner date with a Playboy model he met while shooting her. While out with this playmate, he's talking about his two models waiting for him back at his hotel room and his past relationship with Indrani. It seems he's evaluating his love life and reflecting on what went wrong with him and Indrani. At the end of the night, he stops by Indrani's room with food to talk about the date and the photo edits.
Apparently, his lavish lifestyle of wining and dining women eventually led to filing a Chapter 11 bankruptcy. According to Markus, he'd rather they be financially bankrupt than creatively bankrupt. As long as they can take pictures, the financial side will work itself out.
For the next shoot, they're working with Dita Von Tesse for her book. She's the queen of burlesque but also a fashion icon who conjures old Hollywood and 1940s femininity.
After getting a great shot in the first set up, something in the camera breaks. It's a $100,000 camera that Markus designed and he is the only one skilled enough to fix it. The stress is high while he tries to repair it in time to get the necessary shots of Dita. Luckily, he was able to fix it while she changed her outfit and re-applied her make-up. Fixed just in time!
They get a number of great shots, including her on a snake chair, all in black, with black gloves. Her with a giant diamond dangling earring, and a very sensual shot of her riding the famous black horse statue at The Bazaar.
After Dita, they head back to New York to shoot Lindsey Lohan. After a brief introduction of Lindsey Lohan's leggings and her fashion line, the photography crew awaits her arrival. While waiting for Lindsey to arrive, Markus talks about getting back together with Indrani and their feelings for each other during and after their eight year relationship. But then we find out he's being so open and chatty because he had a bit of champagne. They have a bit to drink, but 7 hours go by and Lindsey is still not there. After 8 hours, many of the crew want to pack it in and leave. By the episode's end, Lindsey still hasn't shown up and it sounds like she's too tired to make it out at all. We'll see next week if she makes it to the shoot or not!

Tune in to Double Exposure every Tuesday at 11/10c on Bravo.
(Image courtesy of Bravo)
Follow Kristal on twitter at twitter.com/kristal_bailey
For more links on Double Exposure, visit SirLinksALot.com