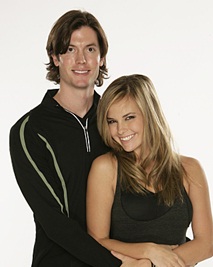 by Gina Scarpa

Brent and Caite went into the final leg of The Amazing Race last night in first place but learned the hard way that a confused taxi driver can cost you a million dollars. No matter how much they screamed at the taxi driver, it didn't get them to their destinations any faster and they soon fell back to third place. They were the last team to cross the finish line but just making it this far is a huge accomplishment to these models, who felt that they had something to prove to their fellow competitors and the viewers. Today, Brent and Caite spoke to RealityWanted in an exclusive interview about the friendships they formed, the rivalry with Carol and Brandy, and breaking stereotypes.
Q. Gina, RealityWanted: What was your main motivation for going on The Amazing Race?
A. Brent: My main motivation was getting to travel and do the experience of the race. I love competition and getting to do everything on the race was my main reason for doing it.
Q. Gina, RealityWanted: In that first conversation in the airport with Carol and Brandy, where they were mocking you, Dan and Jordan were part of that too. Did you realize that initially?
A. Caite: Not until I saw it. Jordan had come to me later in the race and said that he had said a couple of not too nice things in the beginning. We became really close and really good friends. I was prepared to see that on tv.
Q. Gina, RealityWanted: Carol and Brandy definitely had a lot to say about you guys, both to your faces and behind your backs. How did you feel about the way they treated you?
A. Caite: I mean, the talking smack and saying things to my face was inappropriate. I had known from the beginning... when I first met them, I asked how they were, they gave me a death look. I was giogn to continue to be nie to them. They had previosu opinions about me. I don't know why they hated me.
Q. Gina, RealityWanted: We see, as the race goes on, just how stressful things can get and how that stress takes its toll on the teams. What was the toughest leg for you guys?
A. Caite: I was physically drained and mentally drained during that last leg. We were ready to get it over with. We were like, "Please just end."
A. Brent: Sitting on the plane heading into San Francisco, going into that last leg, we had been through so much already. We were kind of excited to see it come to an end. I don't know if our bodies could've handled any more.
Q. Gina, RealityWanted: What were your thoughts on Dan and Jordan cutting the line at the airport and then switching seats on the plan in order to get ahead? Do you credit that with their win last night?
A. Caite: It's a game. If you can't laugh about it, get over it.
A. Brent: Cutting in line didn't play any role whatsoever in them getting first place. The big thing was them moving to the front of the plane. I saw them go up there. The big thing that went through my head was that a lot of times, Caite and I were in the front of the plane and it never mattered. This was the one place where it mattered. I told the cowboys we'd all be next to each other but it didn't work out that way.
Q. Gina, RealityWanted: Not to keep coming back to Carol and Brandy, but what was your reaction to the way that they attacked you at the finish line? It's supposed to be a celebration.
A. Brent: They have no class whatsoever. They tried to take that moment to get back at us. Everyone there, the other teams, wanted it to be an exciting moment for Dan and Jordan. It was their last fifteen seconds of fame.
Q. Gina, RealityWanted: Who will guys stay in touch with?
A. Caite: I'll really stay in touch with Ali and Jordan and a lot of people.
A. Brent: I talk to Dan, Louie, Ali and Steve pretty much every other day. I'm actually going to Chicago next month for Jeff's birthday. Steve will be in town with the baseball team so we'll all get to hang out.
Q. Gina, RealityWanted: Do you feel like you changed people's opinions of you?
A. Caite: Yeah, I definitely think that I changed most people's minds. You can't win all of them over.
A. Brent: There's a stereotype about models. Carol and Brandy tried to play me as some dumb Southern boy but they didn't know me. I carry myself with class and try to be as dignified as possible. That's something I did on the race and will continue to do after.

(Image courtesy of CBS)
Follow Gina at twitter.com/ginascarpa
For more Amazing Race links, visit SirLinksALot.net