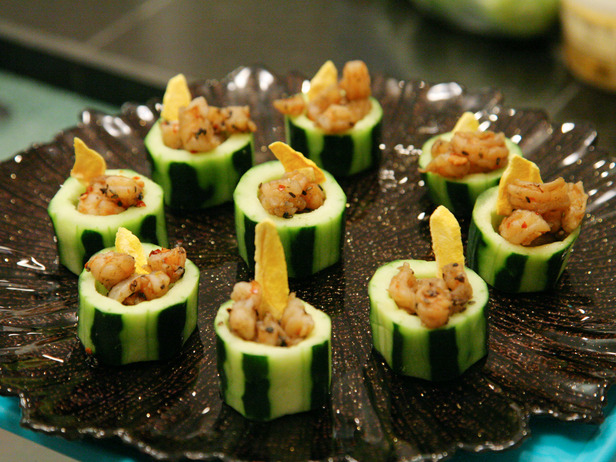 by Chandra Clewley
On this week's episode of Private Chefs of Beverly Hills, the chefs have to deal with three very different parties. The first party has been booked because of Chef Jesse's success with the Beverly Hill's Women's Club! Client Leslie has requested him because she saw a lot of potential in him. Now she is throwing a dinner party for 10 women, and she hasn't had a carb for over 20 years. She wants to show them that they too can rob themselves of carbs and still find something to eat.
Meanwhile, Chef Stuart and Chef Sasha are paired up again for a German/Indian Engagement Party. The German groom wants to impress his Indian bride's family by having them to dinner and introducing them to German food. The only hitch is that German food is bland and Indian food is full of spices and hot. 
The third party is an Urban Homestead Buyers luncheon. The meal will be attended by bloggers, food critics and buyers for such notable stores as Whole Foods and Bristol Farms, and will be held right there at the urban farm which grows organic vegetables, and has farm animals as well. The hitch is that there is no electricity, so Chef Brian and Chef Manouschka will have to make due with a clay oven, a solar oven and a blender that is powered by a bicycle. Chef Brian calls it "Little House on The Prairie". 
Chef Brooke and Chef Jesse get to work on Leslie's party but in the middle of prepping, Leslie comes in to let them know that Barbara Lazaroff will be attending. She is one of the co-founders of Spago. They can't believe that they have to make Barbara Lazaroff eat a no carb meal.  The menu is as follows:
Appetizers: Yellow fin Tuna Tartare in a Cucumber Cup and Smoked Salmon and Caviar on Quinoa Cakes. For the main course, they will serve Roasted Pork Tenderloin with Cauliflower Risotto, Ricotta Gnocchi with Pesto Sauce and Lobster Wrapped in Bacon.  With no flour, no sugar and no bread, Chef Brooke thinks things are going to get difficult as she attempts to fry quinoa cakes.  As the guests arrive, Barbara Lazaroff comes into their kitchen and she sees the bacon on the lobster. She is very friendly, but asks them to make a few pieces without the pork, since she doesn't eat pork. Chef Jesse complies but as soon as she leaves, he freaks out. The main course is Pork Tenderloin, what are they going to do? Chef Brooke comes to the rescue with a Lamb Rack that she brought along, just in case they needed it.  Chef Jesse rushes to get it in the broiler fast enough to serve. 
Back at the German-Indian Engagement Party, the menu is planned to introduce the Indian family to the German culture. The appetizer will be Pan Seared Bratwurst with Sauerkraut and White Asparagus Soup. The main course will be a Smoked Pork Chop with Red Cabbage Sauerkraut and Mashed Potatoes. Just to be safe, the chefs are going to make 2 Indian dishes, Vegetable Samosas and Chicken Tikka Masala with Garlic Naan. The last time Chef's Stuart and Sasha worked together was when Sasha made the disaster cake for Mary Dann and they start bickering immediately, because Sasha doesn't want to make the German food.  She thinks she should cook the Indian food because she lived in India for 4 months when she was nine. On the other hand, Stuart went to culinary school and grew up in Great Britain which has famous Indian cuisine. When the Indian aunts arrive, they come into the kitchen and immediately criticize the chefs. Stuart is wrapping the Samosa with wonton wrappers and Sasha thinks it is all wrong.
Later, at the homestead the menu is going to be Appetizers of Oven Roasted Winter Squash Soup with Goats Milk. The main course is Cuban Style Black Beans and Rice, Vegetable Non-Lasagna Mixed Green Salad and Mini Vegetable Casserole with A Fried Duck Egg and Apple Butter. For dessert, Manouschka is making Lemon Rosemary Muffins with Candied Pansies. The chefs have to gather all of the food from the garden and then Chef Brian jumps on the bike to blend his roasted winter squash into the consistency of soup.  Chef Manouschka takes her muffins to the solar over, since Chef Brian is using the clay oven and for once in LA history, there is no sun, so they barely bake. She is disappointed and decides to 86 the muffins, but Chef Brian insists on cutting into one, and they are perfect. The dinner goes over great, with the only hitch that the pickled garlic in the non-lasagna overpowers the homestead's jarred tomato sauce that they were supposed to be showcasing, but besides that, everyone was very pleased with the meal.
Back at the Carbophobe party, the women are sitting down to eat, and Barbara, to Chef Jesse's utter relief, exclaims that the lamb is divine! Way to go in a pinch!  The women love the carb-free dinner, although they do admit that the salmon and caviar would have been better on a blini than a quinoa cake. All in all, Chef Jesse and Chef Brooke are successful.
The German-Indian Engagement party is starting to bust. The Indian family has not liked the appetizer or the Asparagus soup and thinks that the German food is bland and boring…which it is. Chef Sasha has tried to get the hosts to diverge a bit from the traditional and try something different but they have been stubborn about staying on tradition. Now, for the main course, they finally come around but the mustard sauce on the pork chops is strong anyhow and they hope to redeem themselves in the eyes of the Indian family. The family ends up loving the pork chops and is pleasantly surprised by the flavor of the German food. All in all, it ends up successful and is a job well done for the bickering Chef Sasha and Chef Stuart.
Catch an all new episode of Private Chefs of Beverly Hills, Friday on The Food Network.
(Image courtesy of The Food Network)
Follow Chandra at http://twitter.com/ChandraClewley