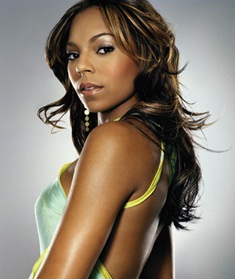 by Gina Scarpa
Tomorrow night, on The Biggest Loser, the remaining six contestants will receive a makeover and be reunited with their loved ones. They'll also be surprised by R&B star Ashanti, who will perform her inspirational music for them. Today, Ashanti spoke to RealityWanted in an exclusive interview about her guest appearance on The Biggest Loser, what brought her to the show, and what she has going on in her career.
Q. Gina, RealityWanted: As an R&B/pop star, have you faced a lot of pressure regarding your image or your weight?
A. Ashanti: I definitely think image is a large part. Obviously people seeing you, they're gonna have something to say good, bad, or indifferent. It's a major part of being in the public eye. It's more about being healthy and happy with yourself. It's definitely important.
Q. Gina, RealityWanted: What made you want to be a part of the makeover episode this season on The Biggest Loser?
A. Ashanti: I'm a huge fan of the show! I actually partnered up with Reveille Productions we're going to be working on my own tv show which I'll executive produce. Being that they executive produce The Biggest Loser, it was a perfect fit. This is the first time they're doing a guest surprise performance. That's obviously what I did and it was really, really cool. It was a great experience getting to see their passion, drive, and willpower.
Q. Gina, RealityWanted: Did you get a chance to talk to the contestants and hear their stories?
A. Ashanti: I spoke to the producer and he explained all of their individual stories to me. In the dressing room, I was memorizing them. I was like, "Okay, this is SunShine, this is Sam." When I went to the stage, they were like completely different people. That's a compliment! I had already known their stories and what had gone on. It was just great to get out there and perform for them. I'm not sure if they're gonna show this on the show but we did a full fledged, long concert. They were up dancing and partying and it was fun.
Q. Gina, RealityWanted: Are you impressed with the amount of weight they're able to lose in such a short period of time?
A. Ashanti: Absolutely! I think collectively they lost over 800 pounds this time around. That is crazy! You look at someone's picture and you're like, "Is that the same person?" That's a major, major compliment.
Q. Gina, RealityWanted: You've always been a person that gives back and is involved with charity work. Was that something that was important to you, using your celebrity status to give back to others?
A. Ashanti: Yes! Absolutely! It's always a positive thing. I love to give back, especially when I'm in a position to. I'm fortunate to do it with something I love. To be able to use that and give back is great. I'm an ambassador for The Boys & Girls club as well. We're doing an event in Phoenix tomorrow.
Q. Gina, RealityWanted: What else is going on for you in your career?
A. Ashanti: My album is coming out. It's amazing I'm very excited. Being a writer, I've written on my albums. This time around is definitely deep. I have a lot to say. I'm definitely excited about the album. Everything is going really good. I have lots of good things going on.
The Biggest Loser airs Tuesdays at 8/7c on NBC.
(Image courtesy of Starpulse.com)
Follow Gina at twitter.com/ginascarpa
For more Biggest Loser links, visit SirLinksALot.net