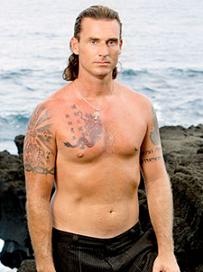 by Gina Scarpa
Last night, on Survivor: Heroes Vs. Villains, the villains could not get it together following Boston Rob's elimination. With no clear leader and dissention among the tribemates, they lost both the reward and immunity challenge. Though many were gunning for Courtney, a weak physical player, Sandra shifted the focus onto Coach by starting a rumor that he was after Russell. At tribal council, Coach received four votes which enough to take him out of the game and make him the first member of the jury this season. Today, Coach spoke to RealityWanted in an exclusive interview about being a villain, his relationship with Jerri, and whether or not he would change his course of action if he could go back.
Q. Gina, RealityWanted: I was certainly surprised that you were on the villains tribe. What was your reaction?
A. Coach: It is what it is. I thought based on how I played the game, and my actions, I was on the wrong tribe. They put me on the wrong tribe. I thought that I was a hero. Based on public outcry, it was something I expected.
Q. Gina, RealityWanted: How quickly did you form a working relationship or friendship with Boston Rob?
A. Coach: It was kind of like... I was kind of in awe of him, I have to admit it. It was pretty amazing. I was in awe of him and then I was playing with him and then he was leading the tribe and it was really cool.
Q. Gina, RealityWanted: You must have been happy that Tyson was out there with you since you worked together before and could trust him.
A. Coach: It was tough. When you go out there a second time, you know everybody's waiting to knock off the pairs. You don't want to be the first person sent home. With Tyson, we tried to play it low key. We downplayed it. He was my closest ally. Look who I came to when I had to break down. I liked Randy too and thought I could trust him. I trusted Boston Rob but at the same time, there was something about him that was desperate. Desperate to get rid of Russell, desperate to play the game. His ego was huge. It was a downfall. I begged him to get together with Russell and me and form a different alliance. Russell said he would do it but Boston Rob said he wouldn't have anything to do with it.
Q. Gina, RealityWanted: Tell me about the connection with Jerri. Is that clever editing or was there something really going on out there?
A. Coach: I look like a little schoolboy! I was look at it thinking, "Jeez they're gonna make me look like a human being. Is that what I look like when I flirt with someone?" It's cute and it was real. When you're out there, it's not the place to start a relationship. She's a great woman, very independent, and totally cool. We both said, "We better downplay this and separate and not be with each other all the time." I'm sure we'll hang out after the game.
Q. Gina, RealityWanted: Looking back, and starting with Tyson being voted out of the game, followed by Boston Rob and then you, is there anything you could've done to change the course of actions that seems to be leading to the downfall of the villains?
A. Coach: I don't think there's any way I could've changed it. It's tough. It's hard. We were on a downward spiral.  I look back at it. We won the challenge when Tyson got voted out, but still went to tribal because it was a double elimination. That shouldn't have happened. Tyson voted himself out. That shouldn't have happened. It's so amazing how the game can change on a dime. I thought about yelling at Tyson before we voted. I almost yelled out, "Stick with the plan!" but that would've drawn so much attention to me. I should've done that. He threw away the game for himself, for me, and for Boston Rob.
Q. Gina, RealityWanted: In this week's immunity challenge, why didn't you guys have Courtney and Sandra together and just give up that one point and fight for the other two?
A. Coach: That's a great point. I don't know. It was a bunch of bad decisions. I definitely wanted to go by myself. I wanted to do my thing and hopefully go 1 on 1 so I could prove that I'm a good physical player.
Q. Gina, RealityWanted: Courtney said a lot of harsh things about you in tribal council, such as her feelings that you demoralized the entire tribe. Do you believe she really thought that or do you think she was trying to sell everybody on the idea that you were the one who needed to be voted out?
A. Coach: Exactly. It's kinda like her last ditch effort and to justify in her own mind. I really like Courtney outside of the game and I think she really likes me. It was her way of rationalizing it and swaying everybody. I was the only person that was sitting there trying to compliment and boost people up before the challenge. I put my hand on their shoulders and said we can do this. If you look at that point in the episode, no one's saying anything. I was doing that in Tocantins, too. 
Q. Gina, RealityWanted: Do you feel that playing the game a second time changed the way America felt about you or viewed you?
A. Coach: Without exception, yes. I think people really saw a human side of me. From the messages that I get and from people that stop me on the street... I let it all hang out. The game is very real to me. I have a great love and respect for the game. I play the game boldly. I think people saw a more humble side. It's great. I accomplished what I set out to do. I wanted to be more chivalrous towards the women, I wanted to be a warrior in challenges, and I wanted to be more humble. I think I did those three things. It's been cool to look back the last two years . I said, "I'm going to be the biggest character." Well, the biggest character wasn't the most likable but I showed a different side of me this time around. It was cool to do that.
Survivor: Heroes Vs. Villains airs Thursdays at 8/7c on CBS.
(Image courtesy of CBS)

Follow Gina at twitter.com/ginascarpa
For more Survivor links, visit SirLinksALot.net