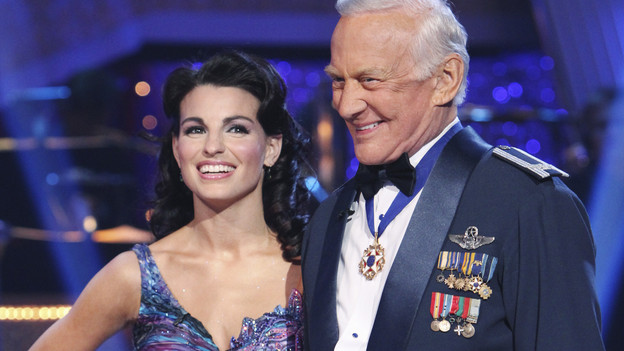 by Danae Young
This week on Dancing With the Stars: The Results, Len gives his perspective on last night's performances and Reba McEntire performs twice!
The first two couples announced safe into next week's show are Aiden and Edyta and Erin and Maksim.
Len gave his perspective on all of the dances from last night, a night of drama and passion.
Jake did "okay" but his dancing needs to improve if he plans to move on in the competition.
Niecy needs to up her game.
Pamela's Paso Doble had power and intensity.
Chad had a slight improvement from last week.
Aiden looked like he was taking so much information in that he was unable to move.
Nicole's Quickstep was a "slap stick number."
Kate's Paso Doble was "like a stroll in the park"…in a bad way.
Buzz's story was charming but the dancing was alarming.
Erin's waltz was nice and beautiful.
Evan gave everyone else a run for their money.
The judges chose to see Evan and Anna perform their 26-point Quickstep once again for the audience.
Reba McEntire, one of the most successful recording artists of all time, performed. She then gave away her top three celeb dancers: Evan, Nicole, and Erin.
Niecy and Louis were then also announced safe until next week.
Professionals Chelsie and Derek had a beautiful performance together.
Next Monday's episode is the double score showdown in which each dance gets two scores. The first score is for technique and the second for performance.
Nicole and Derek, no surprise here, were also announced safe.
Len said that Season 10 is turning into Season TENsion. Good one Len!
Reba performed another hit from her gold album accompanied by a dance from Lacey and Dmitry.
Melissa Rycroft showed everyone what it is like to be in the audience from entering the building to finding their seats. Audience members have to be there an hour and a half before the show even begins!
Evan and Anna along with Chad and Cheryl were added to the pile of safe couples.
Everyone got to see a little glimpse at how close the cast members really get throughout this experience. Most of the couples train at the same dance studio and run into each other quite a lot.
Aiden and Jake have trailers across from each other so they have become pretty close because of that. Kate and Erin are so close they even text each other. Niecy loves her donuts and Erin is a big jokester. The cast looks like they have an awesome time together and get along really well considering they are competing against each other!
Pamela and Damian are safe and later they are joined by Kate and Tony.
The bottom two were Buzz and Ashly and Jake and Chelsie. When it came down to a decision, I think most of us knew deep down that Buzz would be leaving. Even so, it must've been a difficult decision for the judges to make.
Buzz let everyone know, before his last dance with Ashly, that he did the show for all of the pilots, military, and elderly people out there.
Watch next week's double score showdown on Dancing With the Stars Monday night at 8/9c on ABC.
 
(image courtesy of ABC)
 
Follow Danae on Twitter: twitter.com/danaeyoung
 
For more Dancing With the Stars links, visit SirLinksALot.net