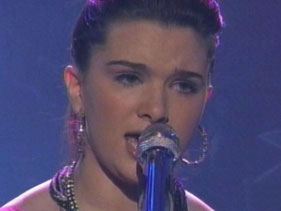 By Lindsay Strouse
It's the Top 9 of American Idol's Season 9 this week singing the epic hits of legends John Lennon and Paul McCartney. They have a big task ahead of them, but to give them a little courage is a video from Mr. McCartney himself wishing all the contestants good luck. Overall, it was a pretty strong night for the singers (with a few exceptions…Aaron). Here's how they did:
Aaron Kelly – "Long And Winding Road"
We learn that this sixteen year old kid's nickname among the group is "Yoda." He may be wise beyond his years in life, but that doesn't always carry over to singing. From the moment he stepped on stage, I had a bad feeling in my stomach. That feeling carried over to my ears pretty quickly. As my co-writer Gina Scarpa likes to say, there always seems to be someone who sucks just a LITTLE bit more than Tim. This week's recipient goes to Aaron Kelly! To be blunt, it was boring, pitchy and did not do the song justice. To quote Ellen, this felt like a "long and winding song that just wouldn't end." How ironic. We keep seeing this poor kid get the same comments week after week. I say it's time to put him out of his misery and let him go now.
Katie Stevens – "Let It Be"
It's prom season for Katie and so far she has five offers from her fans. You boys better start picking up the phone, because she says she'll go with whoever she gets the most votes from. I think they'll be picking up the phones for more than just a date tonight, because her performance was fantastic. I really liked the way she changed up the sound and made everything flow into each other. She really shined out there tonight and had one of her best performances. Simon tries to take the credit for tonight's success by claiming she's taking his advice and leaning towards a country style. Um…WHAT?
Andrew Garcia – "Can't Buy Me Love"
Oh, Andrew, how I wish I could love everything you do. Despite the judges calling him out on a "bland personality," I see the loveable goofball in him just like all the other contestants. While he did put on a fun, good performance, he's still not in the same league as some of the others. There's no way he can win, but he'll probably ride along for a couple more weeks and will have a great time doing it. He's one of those guys that just loves to be up there with his guitar, so I give him props for that.
Michael Lynche – "Eleanor Rigby"
Our big teddy bear takes the stage tonight with a chorus of strings behind him. His arrangement is really cool, and as big of a Beatles fan as I am—I almost didn't recognize the song! He gave it a sort of R&B feel which I really liked and could definitely hear on the radio one day. He looked and felt like a star out there tonight and it paid off. He's starting to really experiment with himself as an artist which makes his performances exciting and fun to watch. I don't care what the judges say, his vocals and drama were HOT.
Crystal Bowersox – "Come Together"
Joining Crystal in her rendition of "Come Together" is Ernie on the didgeridoo! I can tell the both of them are having a lot of fun up there. I'm starting to like Crystal more and more each week as she lets us in a little bit more into her personality. And I mean…wow. She owned this song. She recreated it and made it playful. I have a feeling we'll be hearing her cover of this song on the radio one day soon. In short, she never fails to impress. See ya next week, girl.
Tim Urban – "All My Lovin'"
It's getting a little hard to review Tim's performances each week, because as Randy puts it, it's like Tim's in his own category. And in Tim's category, he did great tonight. In American Idol's category, he did okay…just okay. His vocals took a few big leaps forward from previous weeks and he put on a relatively respectable performance. In fact, Simon thought he did really well—and not just "Tim category" really well. American Idol really well. That's the best judging he's gotten in a long time. Now THERE'S something to smile about!
Casey James – "Jealous Guy"
I couldn't even take notes on Casey until after he finished singing—I was sort mesmerized by him. Maybe it's partly from his dreamy blond locks and suave white jacket, but he drew me in. I love that he brought his sensitive side to the stage tonight as opposed to the cliché sort of rocker guy. He really poured his soul into the song and the performance and left his heart on the stage. I'm not afraid to say that's one of my favorite performances of the night.
Siobhan Magnus – "Across The Universe"
First of all, this girl has made some questionable fashion choices before, but tonight's ensemble is just plain WEIRD. Second of all, if she inserts screaming into one of my favorite songs in the world, I am boycotting the rest of her performances. Quite to the contrary, she brings a very soft, pretty and almost restrained side out tonight. It actually reminded me a bit of Katharine McPhee's rendition of "Somewhere Over The Rainbow" from season 5. Siobhan shares a sentimental moment with the judges and the audience and shows that she can be more than the quirky, strange girl. Okay, I won't boycott your performances.
Lee DeWyze – "Hey Jude"
I know I said Casey James had one of the best performances of the night, but Lee had THE best. When he's up there playing with his guitar, he looks so comfortable and at ease. This is a perfect song for him and a perfect song to end the show with. He put a big ol' smile on my face from beginning to finish. He even included some interaction with the audience complete with a cameo from a fully-dressed bagpipe player. Okay, so that was a little strange but it was also hilarious. The only thing I can say about Lee is that I want him to believe in himself as much as I believe in him. He has so much potential and just needs to fully realize it in order to be phenomenal.
Don't miss American Idol's live results show tomorrow, Tuesday, April 7th at 9/8c on FOX with performances from Rihanna and Jason Derulo.
(Image courtesy of Fox)
Follow Lindsay at twitter.com/LindsayStrouse
For more American Idol links, visit SirLinksAlot.net