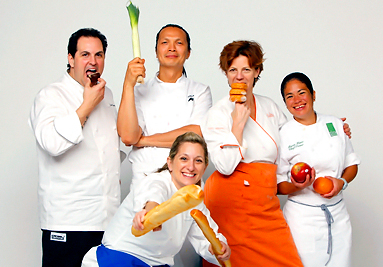 by Chandra Clewley
Executive Chef at Chicago's The American Restaurant Debbie Gold, and Proprietor of Cambridge's Rialto Restaurant, Jody Adams are just two of a slew of James Beard winners on Top Chef Masters Season 2. As a matter of fact, it seems like many of the contestants showed up on a mysterious day when James Beard Awards were being sold and marketed like a Chia Pet or a Bump It.  Among the other esteemed James Beard winners: Ana Sortun, owner of Oleana in Harvard Square, Massachusetts; Tony Mantuano, Executive Chef and Partner at Spiaggia, Rick Tramanto, partner and Executive Chef of Tru, in Chicago. From Seattle we have James Beard winners Jerry Traunfeld, owner of Poppy; Maria Hines, owner of Tilth, a certified organic restaurant; and Thierry Rautreau owner of Rover's Restaurant. Lastly, on the list is Marcus Samuellson, Executive Chef of Aquavit in New York City.
In addition to that talented group are even more seasoned chefs from across the United States. New York City gives up their talent for a few weeks when former Top Chef guest judge Wylie Dufresne, partner and Executive Chef at wd-50 (which has a Michelin star); Jonathan Waxman of Barbuto; Jimmy Bradley, Executive Chef and owner of The Red Cat and The Harrison; and Rick Moonen of RM Seafood and Water Club fame, fly into Los Angeles for a little sunshine and excruciating competition. Jetting in from Miami will be Carmen Gonzalez, owner of Carmen The Restaurant, and meeting her at LAX from Houston will be Monica Pope, owner of t'afia and Beaver's.  Chicago loans out Graham Elliot Bowles who just opened Graham Elliot; while no one really can pin down where David Burke is flying in from since he has an empire that spans the continental US. He has also won the esteemed Meilleurs Ouvriers de France Diplome d'Honneur. Oh, and not to be outdone, Canada gets to chime in with Susur Lee, a fan favorite, who owns Susur and Lee in Toronto in addition to restaurants in New York and Washington D.C.
To round out this huge group of esteemed contestants, Los Angeles offers up former guest judge Govind Armstrong, Executive Chef and owner of 8oz Burger Bars; Mark Peel, Executive Chef and Owner of Campanile; Ludo Lefebvre, wonder-chef of the traveling pop-up restaurant LudoBites; and one half of the staple show Too Hot Tamales, partner of Border Grill, Ciudad and Border Grill Truck, and proprietor of STREET, Susan Fenigar. 
This season is going to be full of competition once you get a look at the resumes of all of the contestants. Joining the three judges from last season: Gael Greene, luminary restaurant critic; Jay Rayner, esteemed food critic, and James Oseland the culinary expert will be the beloved Top Chef judge and Food & Wine contributor Gail Simmons.Rounding out the cast is Kelly Choi, food journalist,hosting again.
I can already cut the tension with a knife! Make sure to set your DVR for the first episode if it's too late for you day warriors!!
Top Chef Masters Season 2 premiers Wednesday night after the Shear Genius finale at 11/10 c on Bravo. 
(Image courtesy of Bravo)
Follow Chandra at http://twitter.com/ChandraClewley
For more on Top Chef Masters Season 2 visit Sirlinksalot.net