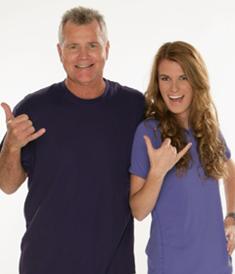 by Gina Scarpa
This week's episode of The Amazing Race took teams from Seychelles to Malaysia, where Steve and Allie faced a tough detour challenge, a frustrating taxi experience, and the inability to make up the time needed in order to continue on to the next leg. They were the last team to arrive at the mat and Phil delivered the bad news that they had been eliminated from race. Today, the pro baseball coach and his daughter spoke to RealityWanted in an exclusive interview about their lack of camera time early on, the alliance that they formed, and their favorite moment on The Amazing Race.
Q. Gina, RealityWanted: After so many seasons of The Amazing Race, what made you decide to try out?
A. Allie: I had just started watching the last couple seasons of The Amazing Race. I hadn't seen a father/daughter team. I didn't think they'd call us back. We sent in our video we still can't believe that we made it!
A. Steve: I started watching it with her. It's a classy show. I was like, "Ok I can handle this." I was thinking, "Deep down, there's no way they're gonna pick us." It happened so fast. The next thing we know, we're in LA and then we're in Chile. It moved so fast.
Q. Gina, RealityWanted: In the beginning, we never saw you guys. We'd see you run by here and end up at the finish mat there. Were you watching those early episodes saying, "Where the heck are we?"
A. Steve: That's funny! Thank goodness I went to the wrong house or we may not have been seen at all from the start. I would get messages from a lot of our friends and they kept saying the same thing. We weren't very controversial. That was probably one of the main things. We never fought with each other. Allie never cried. I don't know. Maybe it was kinda boring for the show.
Q. Gina, RealityWanted: You did run a quiet race and it didn't seem you were working with anybody. Did you form an alliance?
A. Steve: We kind of did. When we got started in L.A., Joe and Heidi were right next to us. We introduced ourselves as we were running. We had an instant connection. We got along good and we never said, "Hey, we're teammates," but we were kind of in an alliance with them.
A. Allie: While you're racing, you're doing your own thing but during down time, we really connected with every team and had a good relationship with everyone.
A. Steve: We finally met Jet and Cord around the 4th episode. People think we all see each other but we don't.
Q. Gina, RealityWanted: Speaking of Joe and Heidi, what did you think about the way that they want out of the race, after being U-Turned?
A. Allie: It was unfortunate but it's part of the game. What can you say about that, Dad?
A. Steve: We're sitting here and we saw the U-Turn. We got there and saw the picture. We were sad but we were like, "God, that could've been us." Thank goodness it wasn't us.
A. Allie: We actually thought they'd get the Morse Code and we weren't that worried.
Q. Gina, RealityWanted: Jordan (of Team Dan and Jordan) said that this last leg was the toughest of the entire season. Do you agree with that?
A. Steve: I think it was the toughest because it was so fast.
A. Allie: So much of what happened for us were the taxi drivers. It was a hot and physical leg. We had been at the front of the pack the whole time. It was the hardest leg and led to the end of the race for us.
A. Steve: I thought there would be harder tasks. Getting that cab driver and the flagpole task was frustrating. It was getting windy  and even the experts were having trouble doing it.
Q. Gina, RealityWanted: Did you watch the episode back and see Jet and Cord with those flagpoles and wonder how in the world they were able to do that so quickly?
A. Steve: Yeah! I saw it just like everyone else. They don't show much how they did it. They showed the beginning, where they first arrive and the end when they finished. I wanna see what happened in the middle of all that. I still haven't seen all the footage. I'd love to see how they did it.
A. Allie: We definitely tried. It looks like we got there and didn't try. It was 32 foot pole running across a football field. It was such an awkward task.
A. Steve: Allie said, "Those guys are having trouble doing it. They're experts. Why waste our time here?"
Q. Gina, RealityWanted: What is your favorite memory or your favorite leg of the race?
A. Allie: Definitely Seychelles was our favorite leg. We won it, we were in paradise, we got a reward in a huge villa for the day. It was the best prize other than the million.
A. Steve: We live in San Diego and I'm always at the beach. We got to that island and it was gorgeous. It reminded me of Hawaii without the tourist area. It was local and so pretty! It was unbelievable. We're not saying it was our favorite because we won. We're definitely going back to Seychelles. I promised my wife I'd take her.
Q. Gina, RealityWanted: What are the two of you up to now?
A. Steve: We had opening day yesterday. I'm in Chicago right now. I watched the show, where we got eliminated, and then we got beat on Monday. It was a losing 24 hours. The race is over but the good thing is that we have 161 more baseball games. I'm doing baseball full time now until October. I'm doing what I love and really enjoying it. With the show and everything, it makes me appreciate life a little bit more. I'm blessed and lucky to do for a living what I love and to do the show with my daughter and experience something that very few people get to do. Life's really good.
A. Allie: I'm currently looking for a job!
A. Steve: You'll find one!

The Amazing Race airs Sundays at 8/7c on CBS.
(Image courtesy of CBS)

Follow Gina at twitter.com/ginascarpa
For more Amazing Race links, visit SirLinksALot.net