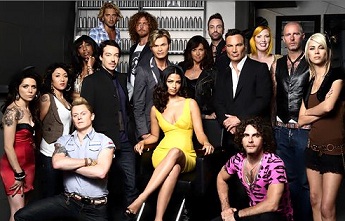 by Gina Scarpa
After a long wait (too long in my opinion), Shear Genius finally returns to Bravo for its third season. The changes are apparent from the start, with a new host, new judges (with the exception of the fabulous Kim Vo), a new mentor, new sets, and of course, new contestants. Host Camila Alves greets the 12 designers and introduces them to new judge Jonathan Antin who, if he's anything like he was on Blow Out, won't be taking it easy on these guys.
The challenges will be just like the previous seasons, with two per episode, a Short Cut and an Elimination challenge. The Short Cut challenge starts now with clients who are ready to make a drastic change. They have a unique, extreme style and cameo alert... one of them is Vyksin from The Amazing Race! The stylists will have to take their clients from punk to polished. They draw scissor boxes to determine their clients and get started.
The contestants introduce themselves as the challenge goes on and their backgrounds are pretty impressive. They hail from all over the world (including England, Australia, Canada), have traveled extensively, worked with high profile clients, and own their own salons. I have a feeling the competition is going to be fierce this season and I love it!
Back to the challenge. Jonathan seems to like Arzo, Giacomo, Joey, and Amy. My personal favorite was Amy and she has the last pick for clients. Janine gets ripped apart for her short brown bob that was pretty hideous, and I usually like a good bob. She lands in the bottom along with Brian and Faatemah. The winner of this challenge is Amy!!! Deservedly so! She'll have first choice of model in the elimination challenge.
Side note: Brig is pretty crazy. She speaks out of turn, she antagonizes the other stylists by insisting she's the best (without even proving herself), and she loves wacky antics around the apartment, like rollerskating in her bikini. She's going to make good tv this season.
The stylists are introduced to their mentor, Orlando Pita, and then find out about tonight's elimination challenge. They'll have to come up with a hairstyle to go with swimwear. The models will only be wearing the bottoms... so that means the hair will have to cover the breasts. None of these models really seem to have enough hair to completely cover themselves so this is going to be a little risqué!
Tonight's guest judge will be Monica Wise, creator and designer for LSpace Swimwear. My favorite looks on the runway come from Janine, April, Jon, Arzo, and Brig. I must have good taste because April, Janine, and Brig are the top three and Janine is the winner. Way to redeem yourself after that Short Cut challenge, girl. The bottom three are Amy, Joey, and Adee. Amy had a great vision that fell apart on the runway, Joey's vision was poorly thought out and his look was disconnected, and Adee did not totally cover up his model and his hairstyle was not fashionable.
Amy is safe (phew!), as is Adee. Joey becomes the first stylist eliminated from the competition. Always rough to be the first one sent home.
Shear Genius airs Wednesdays at 10pm ET on Bravo.
(Image courtesy of Bravo)

Follow Gina at twitter.com/ginascarpa
For more Shear Genius links, visit SirLinksALot.net