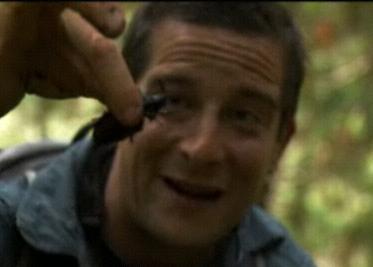 by Vin Convertito

Active volcanoes, raging rivers and jaguar infested jungles will challenge Bear Grylls as he takes on the wild terrain of Guatemala on toinght's episode of Man Vs. Wild. Hailed as "one of the most hazardous countries in the world" for a multitude of reasons, Bear begins his Guatemalan adventures high above the lava streams of one very angry volcano. As he is lowered from a helicopter onto the ash laden mountainside, Bear exclaims, "My mission is to show you how to stay alive long enough to make it back to civilization."
Now that Bear is perfectly lost, his first steps will be to head down the blackened hillside where chunks of hardened lava rest like spewed gravel; a slippery slope for anyone making their way down. But Bear knows how to handle the landslides that present themselves as he offers his first of many survival tips and lowers his center of gravity and uses his heels to descend the mountain. As the soot fills the air, Bear jokes, "it's like landing on the moon!"
In an effort to be rescued, Bear heads for the jungles to seek out the several-thousand-year-old Mayan ruins. The survival tactic employed relies on the hopes that where there are ruins there are tourists. For now, tourism means civilization and salvation. On his way into the dense, humid jungles, Bear stops for a quick snack consisting of live rhino beetles. These thumb-sized bugs are thick skinned and famous for their mighty horn. Bear has no problem crunching on rhino beetles despite them being "very bad tasting."
And it wouldn't be an episode of Man vs. Wild if Bear didn't have to find a vine and make his way down a cliff into the fierce rapids below. Using string from his backpack, Bear is able to securely fasten a vine to a tree for his repel. Why the string? Because Bear warns us that you should never "kink the vine" nor "compromise the strength of the vine" by bending it around the tree itself.
Bear's trip down the river leads him to explore "Central America's largest system of caves." On his way in, Bear collects as many fresh water crabs as he can and shares one of his favorite maxims: "survival is about making the most of what you come across." Using a man-made torch, Bear enters the cave to avoid the outside elements but has a near-death experience as he loses his only source of light. After making his way out, having trudged through the cave's icy waters, in total dark, Bear was lucky to have escaped what the Mayans believed to be the gateway to the underworld and referred to as "the place of fear."
Out in the open and on the run, Bear reminds us how important it is to "get some heat back into the body" having come from such frigid temperatures in the cave. Making his way through the jaguar inhabited jungles, Bear stumbles upon a gang of beetle larvae that will make for a tasty meal later on. Although unsure of the exact type of larvae, Bear reassures us that the bug does not have any "natural" signs of poison about it; no bright colors, no fine hairs covering its body. Bear will boil the bugs and the crabs he caught earlier in his canteen over a fire, but not before he prepares his bed for the night. Using several small trees, some vine as lattice and fern leaves for added comfort. Bear engineers himself a "bivouac" or make-shift bed that will be suspended high above the jungle floor. Even though a potentially-attacking jaguar could climb the tree, Bear considers this move to be the safest one for his survival.
After a safe night in the tree tops, free of jaguar attacks, Bear is closing on the Mayan ruins he has so desperately sought after. His breakfast of palm meat is by far the most appetizing of the meals he has had here in Guatemala, which he says translates to "the land of the trees." The palms are considered to be a delicacy, but better than their sweet taste are the much needed carbohydrates that they provide. These palms will give Bear the energy he needs to make his final push out of the wild.
Finally amid the ancient Mayan remains, Bear knows that this 2,500 year-old site represents his best chance of rescue. His plan is simple, but one that should only be reserved for an emergency such as this. As Bear hurries up the stairs of the Mayan ruins, he reveals his intentions; he will start a fire in an attempt to be recognized by anyone passing overhead. To respect and preserve the sacred temple, Bear uses a bed of damp, fresh leaves so that the stone will not be stained. He also places wet vegetation on top so that a lot of smoke will emit from the fire he starts.
Soon enough a helicopter spies Bear and his time in Guatemala comes to an end. In Bear-like tradition, we are left with his final thoughts: "This was one hell of a rollercoaster ride. It took me to the edge and nearly pushed me over... hasta la vista, Guatemala."
Man Vs. Wild airs Wednesdays at 10pm ET on Discovery.
(Image courtesy of Discovery)
For more reality tv links, visit SirLinksALot.net