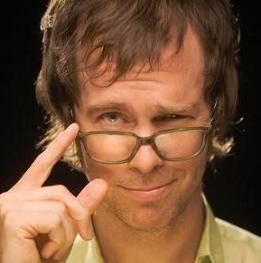 by Gina Scarpa

Beginning Monday, December 14, NBC will unveil its holiday special The Sing Off, in which a capella groups will compete for a grand prize of $100,000.  Hosted by Nick Lachey, the four night special will culminate with a live grand finale in December 21.   Helping decide which group will win it all are judges Ben Folds (Ben Folds Five), Shawn Stockman (Boyz II Men) and Nicole Scherzinger (Pussycat Dolls).  Today, Ben spoke to reporters in a press conference call about The Sing Off and what's in store for viewers.

Q. Gina, RealityWanted: You did the "Unversity A Capella" album last year but when did your interest in a capella music first begin?
A. Ben: I've always loved vocals.  I've always tried to use a lot of harmony on records.  The actual genre of a capella… there was a record in the 80s when he sang all the parts.  I never was in a group or anything.  What really peaked my interest was seeing a link on YouTube that someone had done a cover of one of my songs.  It was really good and really inventive.  It hit something about the song that I may have missed in the original version.  From there, I started jumping around YouTube and hearing covers of other songs I've done.  Some of them I thought were an improvement.  I like the genre because it's inventive.  It's not so worn out. 

Q. Gina, RealityWanted: How did you end up becoming a part of The Sing Off?
A. Ben: I suppose it probably was because I had made that album, "University A Capella" with all the college groups.  When they were doing their research, I suppose my name came up.  I worked with one of the producers of the show on a couple other things a long time ago.  Wrote an MTV Music Awards theme

Q. Gina, RealityWanted: What kind of judge are you going to be?  Are you going to be overly tough on them, super supportive, or tell the truths that they need to hear in order to succeed?
A. Ben: That's actually the last option.  That's the reason I'm doing it, a big part of the reason that I made the record the way that I did.  My gig is to see if it's working.  If it's not working, then I try to delve into the reasons why their performance might not be working.  I tell them what was great about it then give them my opinion what fell short and what I'd like to see for the group and hope that they all improve.  Once they all improve technically every way that they can, my hope is that they do something generous and risky that pushes the genre forward another step.  That's what this is all about.

Q. Gina, RealityWanted: You're working on a new album with Nick Hornby, which is due out next year.  Can you tell us a little bit about that?
A. Ben: It's not a capella but Nick has written some really cool lyrics.  Where I've been able to bring him to life … he's written about 35-40 sets of lyrics.  The album has about 10-12 songs.  It's like one of my records except it has Nick's lyrics.  Since I haven't been writing the lyrics and since I have so much respect for what he does, I really put the time in to the arrangements.  It's been a lot more of a serious undertaking.

Q. What did you learn from doing "University A Capella"?
A. Ben: I think that what we forgot is how many people can sing really well… like how many talented singers there are, who don't have to have the most star quality, memorable voices.  They don't have to look any certain way.  When you take all that out of the running, it starts to feel like there aren't many good singers.  When I went around recording these groups, I was blown away with how many first and second takes we got.  That was awesome.

Q. What are you looking for in a great a capella group?
A. Ben: I'm looking for it to move or entertain me.  If that's not happening, then I go into my producer space and say, "Well there's a reason for this."  That's my job.  Each of us judges seem to have gone to what we're useful for.  Nicole usually says something that everyone can relate to like, "It had energy."  Usually, for me, I'm looking for something that's making it not work… something in the arrangement, something distracting.  Each group has their own challenges.  An all female group has a challenge of not having a bass but an all male group has challenges as well.  At the end of the day, I'd like to feel like some of them innovated a bit in the genre. 

Q. Will the a capella music translate well over television?
A. Ben: I've been concerned about that and written many long, rambling emails about that to the producers.  That's true, though, of any kind of music on television.  Music on television is just not a full experience.  You have to get the mix as representative and exciting as possible.  I have every reason to feel it's been well shot and well edited because they've been such sticklers about this.  As a judge, my challenge was that the front of house was so loud and so exciting, that I had to concentrate.    I think they're gonna the land the plane on that really well.  I hope!

Q. For people who aren't really familiar with a capella music, what do you think they're going to get out of this?
A. Ben: I don't see how anyone wouldn't like it.  Every group is different.  There's no formula.  I think when people see it, they're just going to keep watching it.  I know I would.  It's almost like a circus when you see people doing this.  You don't think that they can pull this off.  These groups are pretty full, it'll translate over television.  I think it's going to be exciting.  I don't know anyone who wouldn't keep watching it.  I don't watch much tv but I would flip right through a normal singing show.  I think the reason this music has a future in pop music is because the economy is crap.  People can't afford to buy instruments… a guitar or a piano.  What's cooler than doing music this way?


The Sing Off premieres Monday, December 14, at 8pm ET on NBC.

(Image courtesy of BroadwayWorld)


Follow Gina at twitter.com/ginascarpa

For more reality tv links, visit SirLinksALot.net