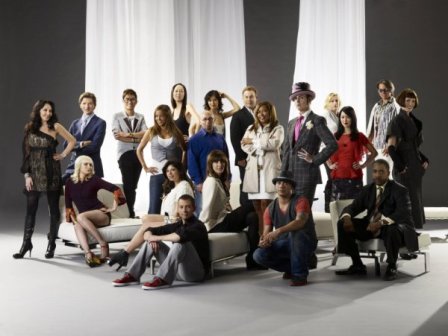 By Chandra Clewley
"Fashion Forward"
On this week's episode of Launch My Line, we start to see the true colors of the professionals and the expert designers!
The challenge is to create "Daytime at The Beach" attire with the element of trend forecasting and the color of Orange. As the winner of last week's challenge, Louanna Rawls gets to pick her fabric out of nine first and then select who picks, in order.  Louanna picks Vanessa last but claims that it isn't for any particular reason.
The designers are sent to Venice Beach with the trend setters, who claim that the style for 2010 will be either "Jellyfish or Butterfly", to gain inspiration.
Louanna and her Expert Designer Jim Tanner decide they are going build a bikini and sarong.
L. Marilyn and her problematic expert designer Coco Kliks hash out a modern caftan, but Coco doesn't understand Marilyn's vision
and they seem to have a very difficult time communicating to each other.  Coco even says that her health isn't worth it, but one would believe this might be in fact clever editing of a sick Coco, as they do seem to have a meeting of the minds later and perhaps Coco was just under the weather?
On the other hand, Patrick and his Expert Designer Roberto definitely have an unquestionable battle of the "Dandy's" if you will…Not only does Roberto come in with his hair windblown and then attest that it is because he is taking after his family "friend" Valentino who wears his hair this way, but he refuses to listen to poor Patrick when Patrick tries to describe his design idea. They are attempting a sundress with a cummerbund, but Roberto decides that Patrick needs to stop using the word "ME" so much and start adopting "WE" more often. In a fit, Roberto rips down Patrick's Logo and seems to throw a big fit. He later apologizes and it seems to be genuine…Patrick hopes he can work on Roberto's "anger issues".
Merle Ginsberg and her Expert Thai come up with a caftan of chiffon and of course, nail it. Merle is worried because she over hears Eric and Galina brainstorming about what they are going to do for the challenge and Galina takes control. Merle, who is a fashion critic, is very familiar with Galina's line "Single" and seems to think that a lot of Eric's influence is coming from his Expert. After checking out www.singledress.com, I am convinced that this is definitely the case. Good eye, Merle. The flow of the dresses that Eric has created so far, definitely echo Galina Sabolev.  Either way, Merle and Thai try to emulate the fashion chic coming out of Uruguay this year, and it works.
Kathy Rose, picks butterfly, and comes up with a red and turquoise kimono wrap. The colors are stunning but the shape doesn't "wow" the judges and she ends up in the bottom three.
Kevin and Akiko play it safe, while David Applebaum and Julie Kwon attempt the architectural finesse of building a one piece, wool, black outfit. The boys of DSquared2 suggest he think more like "a designer" to which he scoffs "what got me here was thinking like an architect!"

Vanessa goes heavy with the butterfly mosaic which leaves her in the bottom three but when you take each piece individually, they do seem to work. The judges concede that her line is just too "matchy matchy."
In the end, it is Vanessa, David and Kathy. David gets the boot but upholds that his minimal, chic, and risky shorts outfit worked.
Don't miss next Wednesday when Launch My Line moves to its regular time, 10pm ET on Bravo!
(Images Courtest of Bravo)