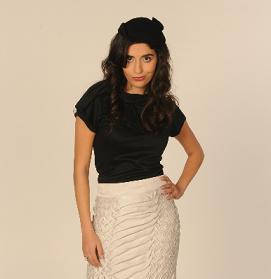 by Gina Scarpa
Last week, the stakes were raised on Project Runway. The designers were asked to create a look for superstar Christina Aguilera. Not only did she show up as a guest judge but legendary designer Bob Mackie was on hand as well. Prior to the runway show, Tim Gunn tried to warn designer Shirin Askari that her design looked like a Halloween costume. Later, the judges agreed and eliminated her from the competition. Today, she spoke to RealityWanted in an exclusive interview about her experiences on the show.
Q. Gina, RealityWanted: What was your design experience, prior to doing Project Runway?
A. Shirin: I started sewing at the age of four and made my first dress when I was seven. Throughout school I would make clothing for myself and in high school I made the decision I wanted to major in fashion design. I attended the University of North Texas where I received a BFA in fashion design and a minor in fashion merchandising.
Q. Gina, RealityWanted: What made you decide to try out for Project Runway? Were you a fan of the show?
A. Shirin: The summer after I graduated I had plans to go to Europe. However two months before graduation I broke my knee so I was stuck on crutches for 15 weeks. I had to walk my senior fashion show as well graduation on crutches which at the time felt like the worst thing that could happen. However because of that, I was stuck at home and I spent my time looking for jobs in NYC. I received an email about the auditions for the show that summer. The tape and all the other requirements were due about 2 days later. So I set up a tripod filmed a tape and sent it all in which wasn't easy to do while having to hop around all broken. Several interviews later I received the call that I had made it on the show! I was a fan of the the show so it was an amazing shock!
Q. Gina, RealityWanted: What was your favorite look that you designed this season?
A. Shirin: Well I really love the maternity dress and coat I made for Rebbeca Romijn. I believe that it truly showed my design aesthetic and style. I also loved the newspaper challenge just because I liked the opportunity to work with something new.
Q. Gina, RealityWanted: How did you feel when you found out that you would be designing for Christina Aguilera? Were you a fan of hers?
A. Shirin: It was really a surprise. I remember when I was young and I got her first cd. I listened to it all the time. My favorite songs were Genie In A Bottle and I Turn To You.  I used to sing it out loud in the shower all the time!
Q. Gina, RealityWanted: Irina made some pretty harsh comments about youur designs and your place in the competition this season. What was your reaction when you saw it on tv?
A. Shirin: I was a little surprised because she never said anything to our faces. But it wasn't too much of a shock simply because she is pretty cold and harsh in person as well. I come from a Persian background so I grew up in a really warm loving environment. So people who are overtly rude to others for no reason are really off putting. I just wasn't raised like that.
Q. Gina, RealityWanted: It seemed like the judges liked you, especially coming off of your wedding dress design the week before. Do you feel like it was a difficult decision for them to eliminate you?
A. Shirin: I'm not sure if it was hard for them or not... I hope it was!  It was hard having brand new judges every week because it seemed like everything you had done before didn't count.
Q. Gina, RealityWanted: How did you feel heading into the runway show this week? Did you worry that it might be you going home?
A. Shirin: I wasn't as happy with this garment as I had been with other so of course I worried.
Q. Gina, RealityWanted: What is the biggest lesson you learned as a designer, being on Project Runway?
A. Shirin: Stress management!
Q. Gina, RealityWanted: What are you up to now? Any big plans?
A. Shirin: I currently have a line of signature pieces you can buy online at shirinaskaristore.com or select stores. I'm doing a lot of custom wedding gowns and working on a full collection that I will show in Feb for Fall 2010. I feel blessed and thankful to be able to do what I love.
Project Runway airs Thursday nights at 10pm ET on Lifetime.
(Image courtesy of Lifetime)
Follow Gina at twitter.com/ginascarpa
For more Project Runway Links visit Sirlinksalot.net