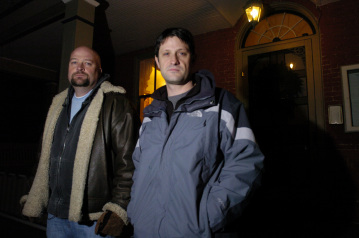 (Photo courtesy of SyFy)
Fort Henry - Kingston, Ontario
Called the Canada's  "Most Haunted Place", the Fort was built in the 1812 and once served as a POW camp for Nazi's, but was originally built for the war of 1812 to keep us Americans out.  It now serves as a National Park and a great place to hang out during Halloween.  The current caretakers, guests, and tour guides have reported hearing men's voices yelling and footsteps, seeing ghostly apparitions, and one time experienced a row of doors slamming shut.  Some children visiting the Fort have mentioned feeling pains in their stomach and something pushing on their chest in one of the room called the "Officer's Quarters."  Once these children left the room, they were fine again.  Of course any Fort involved in even the smallest battles experiences many painful deaths by battle and even some hangings of captives.
TAPS co-founders Grant Wilson and Jason Hawes began their investigation in one of the Officers quarters and believed they heard a noise like footsteps or some light pounding.  They knocked the on the glass which encloses a part of the room, made that way to keep out unwanted guests, and they received what seemed to be a knock back at them.  Steve Gonsalves and Dave Tango began their investigation in a area called the "Dry Ditch" which was a separate area from the main Fort and outer wall where one soldier was blasted off a wall when a canon accidentally discharged causing a big explosion.  They thought they might have caught a shadow but would have to wait to review the evidence.  Amy Bruni and Kris Williams, sporting a new hairstyle, seemed to be playing a game of cat and mouse in one of the Forts hallways.  They would hear a knock and some shuffling, go to the area where they heard it coming from and then the knock would come from the other side of the room.  This happened multiple times.  They decided to sit down and suddenly a tapping noise was heard behind them in the enclosed room.  It's possible that one or both of them wet their pants…..but this was not confirmed. 
Jason and Grant headed to the Bakery area and immediately their K2 began registering some high magnetic readings which was then followed by footsteps.  At one point Grant believed he witnessed a figure go past the window but nothing was outside.  Not long after this occurred a big heavy door, back inside where they came from, slammed shut.  They opened the door and asked the spirits to close it again, and on cue, the door closed and the latch locked.  Dave and Steve went to the Bakery where Jason and Grant had the door slam by itself on two separate occasions.  They thought that a door might have closed on them as well, but not like what happened to Jason and Grant.  There were not many more experiences from the rest of the teams investigations so they shut down shop.
When the team reviewed the evidence, the door slamming experienced by Jason and Grant, was caught on a couple of video recorders and there was simply no explanation for it occurring.  The other item that the team could not debunk was the constant knocking and footsteps multiple members of the team were experiencing.  One thing TAPS did point out was that the Fort was filled with limestone and the town itself is called "The Limestone City."  Limestone is often considered a generator for paranormal activity.  The final result was that Fort Henry is haunted.
For those of you looking for an extra fix of Ghost Hunting, check out "Ghost Lab" on the Discovery channel on Tuesday nights.  They are creating some serious competition for Ghost Hunters.

Story by: Chad Alan
For more Reality Television Links visit Sirlinksalot.net