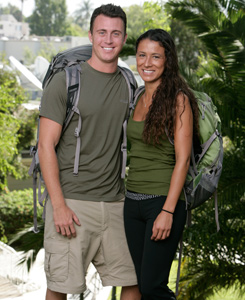 by Gina Scarpa
Last night, on The Amazing Race, teams headed to Japan where they competed in a kooky Japanese game show challenge, led tourists through the crowded streets, covered tree roots in mud in Vietnam, and herded ducks.  The duck challenge is where couple Garrett and Jessica started to lose their lead on the other teams.  They arrived at the challenge in second place but left in last.  As the last team to arrive at the pit stop, they were eliminated from the race and sent home.  Today, Garrett and Jessica spoke to RealityWanted in an exclusive interview and it appears that everything is not what it seemed with this "couple on the rocks".
Q. Gina, RealityWanted: What made the two of you try out for The Amazing Race?  Were you fans of the show?
A. Jessica: What made us try out originally was we both have a love of travel.  We met abroad in Spain and have been travelling for the last 5 or 6 years together.
Q. Gina, RealityWanted: Did you do any preparation before heading out to L.A.?
A. Jessica:  Physically, we just worked out a ton and just made sure that we were as physically fit as possible.
Q. Gina, RealityWanted: You were shown as the on again/off again couple.  How did you manage your relationship while dealing with the stress of the race?
A. Garrett: We kind of sold ourselves as a little more unstable than we actually are or were.  When I figured out that we were going to be on the race, I thought it would be a great time to propose so I proposed right after we were eliminated. 
A. Jessica: We were laughing last night watching it. 
A. Garrett: That's how we sold ourselves to casting.  We were the on/off couple.  They have one every year.
Q. Gina, RealityWanted: Usually couples that are dating on the show tend to fight a lot.  Did the two of you talk beforehand about how you were going to treat each other?
A. Jessica: I said, "No yelling and no talking bad to each other." We try not to do on a day to day basis.  During the race, it's so stressful.  Everyone's yelling and everyone's saying things that they normally wouldn't say.
Q. Gina, RealityWanted: Did it frustrate you that the sushi wheel challenge was all luck and no skill?
A. Garrett: We were baffled when we walked in and they told us the rules.  I was like, "This is The Amazing Race and that's what we're doing?"  Everyone was kind of taken aback by that as a challenge.  Once people were into the city with their tour group though, that was a whole other challenge.
Q. Gina, RealityWanted: What was your reaction when you found out that Maria and Tiffany were lying about their occupations?
A. Garrett: Everyone was just shocked because we spent the last 24 hours bonding with everyone.  Everyone's telling their stories and being really truthful.  Just the way they talked, you could always tell that there was something missing. 
Q. Gina, RealityWanted: Which teams did you get close to on the race?
A. Garrett: We got along real well with Zev and Justin, Brian and Ericka, and Marcy and Ron.
Q. Gina, RealityWanted: Besides the fact that the sushi wheel was all luck, you also had to deal with animals.  Jessica, how difficult was it to control them and get them to do what you wanted?
A. Jessica: Yeah, it was beyond frustrating.  Unless you had specific herding experience, it's all new.  I tried to stay calm and that's the most important thing because animals feed off of stress.  They didn't even show that I had some things majorly impeding me.  I had a broken flag once which I couldn't use at all.  One time, I had a duck with a broken foot.  We had gotten in there in second place and left 30 seconds behind the second to last team.  It was just crappy luck.
Q. Gina, RealityWanted: How did the two of you deal with being eliminated so early in the competition?  I'm sure it was both frustrating and disappointing.
A. Jessica: It was really hard and we just realized that we had to lean on each other. 
A. Garrett:  It put things in perspective.  When you think about marriage and lifelong commitment compared to a reality show, it really does put things in perspective.
Q. Gina, RealityWanted: Did being on The Amazing Race inspire you to travel to places you may not have thought about going before?
A. Jessica:  I think travelling has always been in our future, regardless of the show… maybe not to Japan or Vietnam anytime soon, but we'll keep our options open.

The Amazing Race airs Sunday nights at 8pm ET on CBS.
(Image courtesy of CBS)
For more Amazing Race Links visit Sirlinksalot.net