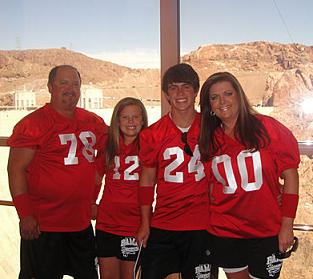 by Gina Scarpa
Tonight, on The Great American Road Trip, just three families remain in the competition.  The Pollards and the DiSalvatores are quite sick of the Cootes winning every King of the Road challenge and you can't really blame them.  The RVs make a stop in Boulder City, Nevada, where they meet up with host Reno Collier. 
In tonight's challenge, families will have to face their fear of heights and take a ride down a zip line.  During the ride, they'll have to throw balloons to hit targets.  Whoever hits the most targets wins.  The moms take the ride first, followed by the kids.  Blake DiSalvatore had a difficult time agreeing to do it but his dad stepped up and convinced him that he would be safe.  It's a good thing that he went because he hit two targets on his way down, tying his family with the Cootes.  After the dads head down the line, it's time to reveal the results and the DiSalvatores finally win a challenge!
The families finally make it into California, where they stop at the Soggy Dry Lake Bed.  After a quick refuel at a local Applebee's, it's time for the End of the Road challenge.  The Cootes and the Pollards will have to maneuver a red car out of a jam packed lot.  The kids will have to give directions via cell phone to get their parents out.  The Cootes finish first and that means we unfortunately have to say goodbye to RealityWanted member Ami Pollard and her fabulous family.  They will be greatly missed and we wish them nothing but the best!
Be sure to tune in to the finale of The Great American Road Trip, Monday night at 8pm ET on NBC.
(Image courtesy of NBC)
For more The Great American Roadtrip Links visit Sirlinksalot.net