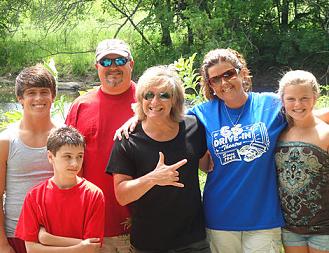 by Gina Scarpa
On tonight's episode of The Great American Road Trip, the final four families make a pit stop at Slide Rock State Park in Arizona.  The place literally lives up to its name as no one can stay on their feet while attempting to relax in the streams.  Silvio's fall was the best one… thank God he didn't get his hair wet!  It was a big day for Mr. DiSalvatore.  Not only did he take a swim, but he learned how to pump gas.
The families move on to the next King of the Road challenge where the DiSalvatores, the Pollards, and the Montgomereys are praying for a win just so that the Cootes don't pull off another victory.  Sedona is famous for their supposed vortexes.  For the challenge, one family member will be spun by the others on a vortex then get up and run to bang a gong.  They'll have to complete the most revolutions in the given amount of time and the winning family will get to fly over the Grand Canyon.  That's once in a lifetime! 
If you can believe it, the Cootes win again, which means the other three families are automatically in the bottom this week.  It's understandably that they're excited to win and receive a prize, but they haven't shown much sportsmanship along the way.  They seem to enjoy their wins a bit too much and I don't blame the other families for being frustrated.
After all of the families get the opportunity to pay a visit to the Grand Canyon, it's time for the End of the Road challenge.  At the Grand Canyon railway, the three families will have to board a train.  Family members will have to relay combination's to open safes to one another until all are opened.  The family that finishes last will be headed home.  The Montgomereys, who have performed pretty well in the End of the Road challenges, did not do their best today and finished with the slowest time.  I'm still trying to figure out how the DiSalvatores manage to work together so well when it counts...

Be sure to say hello to Amie from the Pollard family and read all about how she landed her stop on the show via realitywanted  here
The Great American Road Trip airs Monday nights at 8pm ET on NBC.
(Image courtesy of NBC)
For more The Great American Road Trip Links visit Sirlinksalot.net