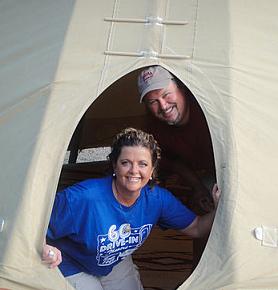 by Gina Scarpa
On tonight's episode of The Great American Road Trip, the remaining five families are at the halfway point on Route 66.  At the Midway Café, the contestants think that they're in for a special surprise but are greeted by host Reno Collier.  For a minute, they're all scared (and who can blame them) that a challenge is coming their way but that's not the case… yet.  The families are going to have a pie eating contest just for fun and the winners get to go shopping in the gift shop.  The Montgomereys win – finally! – and spend every last penny of the $200 they're given.
The family are back on the road and can I just say something?  I would literally pay money NOT to go on a road trip with the Faverey family.  The tantrums, from people way too old to take them, is enough to make a person nutso.  Just leave me on the side of the road in New Mexico.  I'll find my own way home, thank you very much.
In New Mexico, the families are given the opportunity to take a hot air balloon ride.  I would've been with Silvio DiSalvatore… on the ground, where I belong!  After that, it's time for the King of the Road challenge.  Families will have to take mannequins and get as many of them on the plane in the given amount of time.  The winners get to board that plane and fly to Phoenix where they'll be pampered at a spa.  Everyone has a different strategy but it's the Cootes who win… again.  Man, do people hate them or what?  The DiSalvatores, the Favereys, and the Montgomereys are headed to the End of the Road challenge.
The three families in the bottom sit on lawn chairs in the middle of the desert as random items go flying by.  Reno asks them to put the objects on a board in the order that they saw them.  The DiSalvatores and Montgomereys thankfully finish first and are still in the competition.  The sound of the screaming Faverey family has come to an end.  I wish that they had acted with a little more dignity… but I still feel bad that they're going home because they took it so hard.  Four families continue on their journey to the end of Route 66.
Be sure to say hello to Amie from the Pollard family and read all about how she landed her stop on the show via realitywanted  here

The Great American Road Trip airs Monday nights at 8pm ET on NBC.
(Image courtesy of NBC)