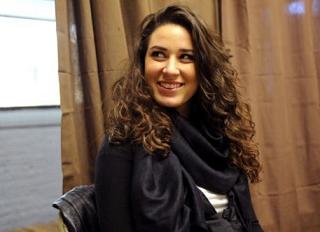 by Gina Scarpa
Tonight, on The Fashion Show, it's down to the final five designers and the pressure is on.  For their Harper's Bazaar mini challenge, they'll have to show that they're experts when it comes to draping, one of the toughest techniques to master in the design world.  Everyone is given one piece of fabric and 12 pins that they must use to impress guest judge Isabelle Toledo, who designed for Michelle Obama, and is known for her draping skills.  With the exception of Johnny and James-Paul, everyone gets favorable reviews from the judges but it's Daniella who walks away the winner.

The elimination challenge is right up Reco's alley: evening gowns.  Not only will they have to design one, but they'll have to use Swarovski crystals as well to glam it up.  Because designing something so elaborate requires so much time and effort, the previously eliminated designers are brought back to lend a hand.  The designers are paired up and the teams are: Daniella and Haven, James-Paul and Merlin, Reco and Andrew, Johnny R. and Angel, and Anna and Keith.  It wouldn't be surprising if not everyone gets along since egos are about to clash and it's no secret that they all hate working in pairs or teams.

Daniella uses a thunderstorm as the inspiration for her design while Anna goes with a floral patterns.  James-Paul goes one dimensional, thinking black while Reco and Johnny use celebrities for their inspiration.  Reco goes Victoria Beckham while Johnny is feeling Maggie Gyllenhaal (love her).  After the runway show, Anna and Daniella are named the top two designers for the week and are the first to be named to the final four.  Reco is also safe, leaving James-Paul and Johnny in the bottom.  James-Paul is told his dress looks too much like a costume but the real shocker is when a picture is brought out of a dress Maggie Gyllenhaal wore - it looks exactly like the one Johnny designed!  He's accused of stealing the design and trying to pass it off as his own and is eliminated from the competition.  How dramatic!
The Fashion Show airs Thursday nights at 10pm ET on Bravo.
(Image courtesy of Bravo)
For more The Fashion Links visit Sirlinksalot.net