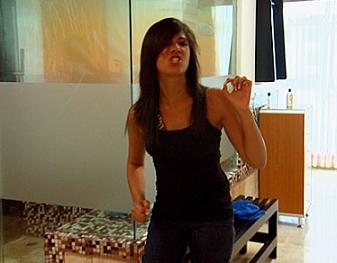 by Gina Scarpa
Tonight, on The Real World: Cancun, the divide continues between the girls and the guys in the house.  Jonna, however, ends up on the boys' side.  She tends to get along with them better but that ends up alienating her from the other girls.  They're jealous that she is closer with them then they are so they fire back by refusing to invite her out when they head to the clubs.  After a drunken night out, Emilee and Ayiiia end up spending the night together.  It's a first for Ayiiia to go so far with another woman but Emilee cannot say the same!  Apparently, Ayiiia is one of her many conquests.

Derek, who has been spending many a night out with his rommies in the club, is heading to a gay club tonight.  Bronne insists on being "gayed up" before they go.  All of the guys head out for the club since the girls are taking much too long to get ready.   Eventually, everyone makes it out and parties a bit too much.  They have to be up bright and early the next day for work and surprisingly, Joey is the first one up and ready to go.  A lot of them are still drunk, which doesn't necessarily help the stigma that Real World housemates don't take their jobs seriously.

Emilee blows up at the guys and Ayiia stands by without sticking up for her.  After seeing that Jasmine was the only one in her corner, Emilee decides that she's not backing anybody up anymore.  It's so early in the season and, already, everyone seems fed up with each other.    Emilee, aka Pouty McPout Pout, doesn't feel like doing her job today with everyone else… except it's not like work at all!  They snorkel, get kissed by seals, and head out on kayak rides.  Tough job!

After a moment of self realization, Emilee goes to the boys and apologizes for her behavior.  CJ points out that Ayiiia ist he ringleader when it comes to drama and perhaps the other girls are finally starting to realize that.  Emilee and Jasmine also apologize to Jonna for leaving her out and the hatchet is buried for the time being.  The roomies all stay in for a night of bonding, with the exception of Ayiiia, who alienates herself in her room. 
Drama Queen Ayiiia starts up stuff with Jasmine, saying that she only does whatever Emilee does and has no mind of her own.  The boys, who have had quite enough at this point, head out for their own night out.  No girls allowed.  I think I'd want to chill with them!  I am not friends with drama.  Back at the house, Ayiiia listens in on conversations between Jasmine and Emilee about her all over house, freaking them out and pissing them off. 
The boys walk in on all kinds of mayhem in the house, courtesy of Ayiia and Emilee.  They stand in the bedroom, screaming and swearing at each other.  Ayiiia ends the conversation by taking a cheap shot at Emilee for being adopted.  That is one of the harshest things I have ever heard and she was completely sober when she said it.  I hope she'll realize how awful that was and apologize for that.  On the phone with her boyfriend (yeah, she has a boyfriend) Ayiiia contemplates leaving if the house continues to bring out the worst in her.
The Real World: Cancun airs Wednesday nights at 10pm ET on MTV.

(Image courtesy of MTV)
For more Real World Cancun Links visit Sirlinksalot.net