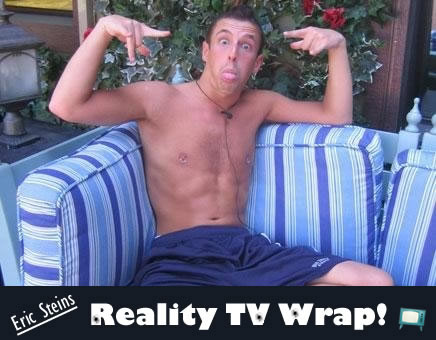 By Eric Stein

Man, sometimes I just love my life.  It's all too easy to embrace my inner, jaded New Yorker and resort to a life of complete bitterness.  Yet sometimes even I have to sit back and appreciate the good fortune that shines down upon me.  And these past few weeks have been glorious.  And why do you find me grinning like a school girl, skipping through the meadows, and pooping rainbows of joy?  No, it's not because I was naked in the ocean this past weekend.  I mean, I was...but, I digress.  It's actually the same reason as all of you...reality TV finales!  We've had everything under the sun, including Hitler in the boardroom, mud-covered weaves flying down the runway, dragon slayers, women who look like dragons (cough cough, Lacey from Hell's Kitchen), and about five too many rounds of Jager bombs at 4:30 AM at the finale parties.  It's been epic. By the way, to pat myself on the back (why do people say "not to pat myself on the back"?  I mean, clearly, if you are touting your own successes…you are doing it to indeed pat yourself on the back)...I predicted Joan Rivers, Victor & Tammy, Teyona, and JT to win their respective shows in my last column.  Please send me gold stars and freshly baked cookies.  Let's get down to business. 

AMERICAN IDOL
While the final vote itself was not, I would say that if you look at the season at large from start to finish...this is the single biggest upset in reality TV history.  Kris had absolutely no time during the audition and semifinal rounds.  At the top of the final 36 or even the top 13, this result was almost unfathomable.  The thing is, I like Kris.  I almost like him a lot.  For me personally, he was my 4th favorite Idol this season (after Adam, Scott, and Megan) in terms of whom I'd root on for the win.  I think he is rock solid, humble, sincere, and likable.  He impressed with his arrangements and his music is certainly viable in today's market.  The problem is...Adam is an ELITE talent.  He's a once a decade talent.  He is at the level of Freddie Mercury/Steven Tyler/Mick Jagger/David Bowie etc.  Look no further than their rendition of "We Are The Champions" on finale night....Kris sounded good...Adam outright slayed it.  Kris played a college campus style jam with Keith Urban, while Adam fronted an arena rock show with KISS.  I will spare you all of my grandstanding, but let's just say I spent most of that night ranting and raving about the frightening state of America after this vote.  I'm tempted to call Adam to offer him my sympathies, as someone who went through America's voting ringer. 

I run an Idol pool every year amongst friends, family, and reality stars/journalists/executives.  Our initial overall average predictions had Kris coming in tenth place.  Yes, going home in week 4. Also, I've been running this pool for a solid 4 seasons now and for the first time ever, out of every participant...not a single one of us correctly predicted the winner of the show.  Between us, we selected EIGHT potential winners (Adam, Danny, Lil, Scott, Sarver, Alexis, Anoop, Allison)....and not a single vote was cast for Kris to win.  Wow. 

Again though, Adam's greatness should not diminish Kris.  This is beyond apples and oranges.  If both men are at the top of their genres, it becomes for of an issue of personal preference than anything.  I mean, how could you compare Kanye West vs. Paul Simon?  Or Norah Jones vs. Fred Durtz?  When artists are polar opposites, but both excel at what they do, what do you do with that?  I'd say that this is the first time that this concept has truly applied to the finale. However, we all know that when we look back this will be another Ruben/Clay or Daughtry/Taylor situation, as Adam is going to go on to have a major, major career.  I actually hope Kris does too. 

THE AMAZING RACE

I had the pleasure of spending the night before the finale with the cast of the Race.  As a whole, they were an extremely likable group of individuals.  Not only were they very friendly, but also many of them were extremely well spoken and far more put together than the average reality TV participant.  They also all were ridiculously attractive and ridiculously tall, haha.  This was a top-notch group of people.  My biggest objection to the finale is that the final leg needs to be the longest leg of the race, not the shortest leg.  After weeks of racing, it should not simply come down to whose cab driver is the fastest.  In fact, I think cabs should not even be a form of transportation on the final leg.  They should live and die by their own navigation skills.  I know that the producers set it up this way by design to try to fabricate a close ending, but honestly I'd far rather see them fight it out fairly over the course of several events even if the end result is that one team wins by a landslide. I really felt for Luke.  As an avid reality TV lover, this was undoubtedly a dream come true for him and he's going to live with the burden of his puzzle-solving failures for a long time to come.  I sincerely hope he doesn't let that overshadow the wildly impressive nature of the rest of his experience on the show. 

AMERICA'S NEXT TOP MODEL

Who cares?  Will anyone ever see Teyona again aside from the Cover Girl commercials that only air during next year's show?  I'm excited for next season, as all of the models are going to be 5'7" and shorter!  Finally some Top Model contestants that I can actually hit on without being totally emasculated, hahaha. 

THE BIGGEST LOSER

Wow!  Major, major, major upsets here!  If anybody put money down on a quiniela, perfecta, or exacta on Jerry to win the at home prize and Helen to win the show, just won themselves some very serious money.  I guess it's probably not PC to refer to horse gambling when referring to these contestants, but oh well.  I was AMAZED by what Jerry did.  Not only was he the oldest contestant, but also he was only on the ranch very briefly, meaning he lost 177 almost entirely on his own.  The man nearly died on the first days of workouts!  I was delighted for him.   And Helen! Holy cabooses!  Tara was the percentage leader prior to heading home and was a challenge dominator all season long.  Michael was the all-time weight loss leader on the ranch.  Yet Helen scored the highest percentage of weight loss at home and pulled off a major shocker.  The fact that they all lost over 52.72% of their weight is remarkable.  An interesting note is that Ron (who didn't even make the final ultimately) actually lost the most weight (by almost 10 pounds) during the period of time that the four potential finalists were sent home prior to the finale.  Aubrey actually gained 3 pounds in her time at home - what a waste.  I'd like to go on next season to show people like her up.  I figure I'm roughly 165 pounds.  In order to win, I would have to lose 54.5%.  So I need to get down to 89.925 lbs for the win.  Think I can manage that without being hospitalized?  I'd be sure to have some impressive abs, as you'd actually be able to make out my internal organs!

SURVIVOR

For the first time in 18 seasons of Survivor, the winner not only never had a vote cast against him all season, but also won a unanimous final vote.  Then again, Stephen only had one throwaway vote cast against him all season as well.  That immediately elicits two responses.  First...they played an amazing game.  Second...how in the heck did the other players let this happen?  JT ad Stephen DOMINATED this game.  Look no further than the dynamic at the final five.  All three of Coach, Taj, and Erinn were not only planning on, but relying on going to the final 3 with them.  This was a royal butt-whoopin' extraordinaire.  It is my understanding that after going home and watching the season, several of the jury members would have changed their votes in Stephen's favor.  Yet, that really makes zero difference (other than to cause the runner-up greater aggravation), as it's only the perception at the time that matters.  Stephen made one very compelling argument in the final tribal council.  He stated that he cast a vote to evict every single one of the jury members (once again, it's tough to separate the two, as JT voted to evict all but one of them as well).  That is VERY impressive.  That means he was on the right side of every vote from the halfway point on.  The blood was on his hands.  I strongly believe that argument should have carried a little more weight. 

I had the pleasure of spending most of the finale weekend with cast members past and present. I'm not a narc, so I'm not going to spill anything too juicy...sorry, I'm just not that guy.  Here's a brief overview though.  One of the most fascinating elements was being able to watch the finale with several past players.  Hearing their game play assessments, along with their rooting interests made the entire experience far more riveting.  Aside from that, we had a ridiculously good time on both Saturday and Sunday night.  The thing about reality TV stars is that we are all a bunch of crazies.  You have to figure, thousands of people apply...so good/bad or in between, there's a reason that these people get selected to appear on the shows.  Love them or hate them, they are interesting, multi-dimensional people who love to have a good time.  In addition to a regular who's who of Survivors, we were joined by All Stars from Big Brother and Amazing Race, winners from Beauty and the Geek and Momma's Boys, I Love New Yorkers, and many more.  You know you've had a good weekend when 5 AM is your early night.

THE CELEBRITY APPRENTICE

I believe that a common theme amongst many of this week's finales was that we really couldn't go wrong.  This is the first reality TV season in ages that show after show found us with the two most deserving players battling it out in the end.  Sure, you may have been on Team Joan or Team Annie, but you can't argue that the season's most compelling, entertaining, and deserving characters battled it out in the end.  One interesting note is that at the end of the day, although Joan won, Annie actually ended up making far more money for her charity.  The honest truth is there were no losers here, as massive amounts of money poured into some great charities.  As he was luring people onto their bus to buy Cirque de Soleil tickets Tom Green had the quote of the finale season.  "Excuse me, young man...hop in the bus, we've got some candy for you."  Gotta love lecherous behavior.

So where do we go from here?  Do we run the risk of crashing into a major depression now that all of these seasons are through?  Never!  That is the beauty of reality TV - it never ends!  We still have The Duel 2, Make Me a Supermodel, The Ultimate Fighter ongoing; So You Think You Can Dance, Hitched or Ditched, Here Come the Newlyweds, and The Bachelorette have all begun already; and I'm A Celebrity Get Me Outta Here, America's Got Talent, Big Brother, Top Chef Masters, Next Food Network Star, and plenty of others on the horizon.  It's an unlimited supply and I wouldn't have it any other way.