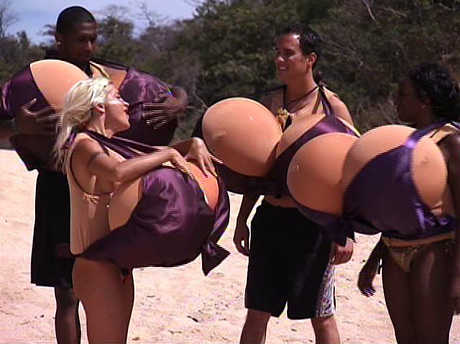 By Jackie Helm
With two episodes and six players left, the suspense of the $250,00 winner is becoming increasingly exciting!  Prancer's "athletic ability" was the hot topic of the show, so I could have almost guessed she would become the Paymaster.  The challenge "Iron Boobs" was an obstacle course that required the competitors to complete while wearing huge fake breasts.  As expected, Prancer finished the course in the fastest time and won the honor of Paymaster.  This came as a surprise due to her previously contused thighbone.  It appears she is a fast healer.  However, Prancer "said" that her leg gave out just before she reached finish line.  Once again, It' became the dead last loser for completing the course in the slowest time.
Tailor Made was freaking out as he felt Myammee was the only person left that had his back.  Prancer used to be his homie but she's been swinging on Saaphyri's sack since Saaphyri saved her last week.  TM whipped out his paper and pen to calculate the player to go home according to who voted against whom.  He gave It' his presentation in an effort to convince him to vote against his boo Saarphyri rather than Myammee!
Once in the vault, It' surprisingly went along with Tailor Made's plan.  He didn't vote for Myammee and did raise his hand for Frenchie and Saaphyri to join him as the other players up for elimination.  As expected, Saaphyri was jaded by his choice and Frenchie was furious!  She dropped a whole lot of 4 letter words and tried to quit the game.  Craig was close to granting Frenchie's request to surrender but Saaphyri spoke up and stopped her!  She convinced Frenchie to chill out and stay in the game.  Naturally, Saaphyri's action was only to save herself from being a replacement up for elimination if Frenchie quit.
The 3 eliminees joined Prancer in a game of golf at the power outing and plead for mercy during dinner.  Saaphyri felt safe as she knew Prancer "owed her one" but still threw out some cries about being the weaker link.  It' played the weak card too.  Prancer told him she'd really like to see all the men go home first.  She also questioned his claim of "underdog' and wondered if the dumb role that he plays is all game.  Frenchie spat out a whole lot of hooplah and Prancer took her to the side for the one-on-one chat.  Frenchie's only real saving grace was promising to help get rid of Tailor Made if Prancer wants to stick to the GP of the sending boys home.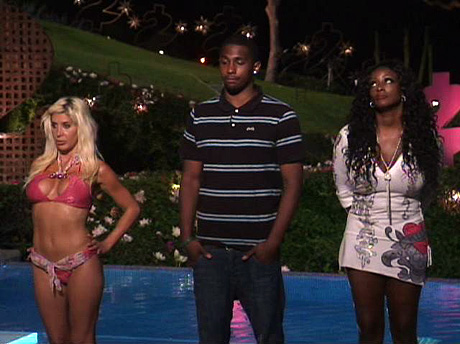 The elimination ceremony was a nail biter.  Prancer gave each eliminee a chance to beg.  Saaphyri sang a song that didn't matter because it was obvious Prancer would keep her in the game – and she did.  During It's long crazy speech, he mentioned a dying grandfather but told the cameras his g-pa died before he was born.  For the final time, we were entertained with Frenchie's subtitles as she continuously dropped the "F" bomb and claimed royalty (loyalty) to all.  But Prancer felt she could beat It' and eliminated Frenchie for being a strong player.  This should have been a compliment to Frenchie but she wasn't hearing it.  She angrily swore Prancer would get bad karma and was happy to get back to Vegas to all the hot guys she knows!
Prancer told It' that she hopes that he is as big of a loser as she thinks that he is.  Then she and Craig just laughed in Its' face!  Prancer told the cameras she wants to keep It' around because he is blind, stupid and can't swim!
The show ended with It' remarking that he was glad to make it to the final five and felt like a crack head in the Crack Olympics!  I don't care what anybody says – I love It'.  In a clip for the finale show next week, It' says in a very proper voice, "They don't realize I'm smarter than them, I actually can see and I'm going to kick their asses!" If this is true – it would be a classic twist to this character It'.  See you next week!
Find more I Love Money 2 links at sirlinksalot.net
(Photos courtesy of VH1)