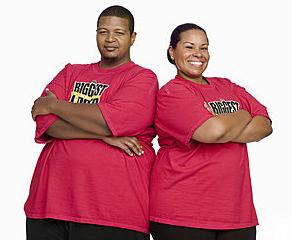 by Gina Scarpa

On this week's episode of The Biggest Loser, Joelle, of the silver team, fell below the yellow line along with Damien, of the red team.  Since the very beginning, Joelle has been unable to connect or bond with the other contestants.  In fact, she has been so difficult that she caused her trainer, the usually mellow Bob Harper, to have a complete meltdown.  It was quite the shock then when the players decided to send Damien home in favor of keeping Jolene.  This week, Damien and his fiancé Nicole spoke to RealityWanted.com in an exclusive interview and open up about the surprising way that he was sent home.

Q. Gina, RealityWanted.com: What made the two of you decide to try out for The Biggest Loser & whose idea was it?
A. Damien: It was all Nicole's idea.  I had originally agreed to be on a reality show, just so that she would leave me alone!  At the time, I was working toward a deadline on a project due the next morning.
A. Nicole: It was my idea.  Once he proposed and I realized I had a man I was going to spend the rest of my life with and have children with, I said to him, "Would you ever do a reality show?" and he said, "Yes." So we stood in line in freezing weather at Rockefeller Plaza at 6 a.m. for auditions.

Q. Gina, RealityWanted.com: How did the two of you deal with being separated from each other so early on in the game?
A. Damien: Initially, it was hard because we're in that "in love/about to get married" mindset and want to see each other through all the stages of this new way of life.  We also had to deal with not being able to see each other's personal growth as it happened, as well as not being able to physically console or congratulate each other.  However, it did make our bond much stronger and now, I love her even more due to it.
A. Nicole: It was definitely hard for me at first but I worked really hard to be strong. I knew that I wanted to prove to him that I could be away the longest time we've ever been away from each other and still be strong and do it on my own.

Q. Gina, RealityWanted.com: Was it difficult for you to resist the temptation challenges that occur throughout the season?
A. Damien: Not at all.  I am here because of food abuse and lack of physical activity.  I felt it should be an easy sacrifice to spend a few months in order to better my and Nicole's lives.

Q. Gina, RealityWanted.com: How do you feel about the way that you performed in the physical challenges, particularly the one last night where you had to jump over the beam?
A. Damien: I felt great because that was one more physical feat that I had conquered.  Normally, I would have said that I could've done that at my weight

Q. Gina, RealityWanted.com: Damien, what do you think contributed to your low number on the scale this week?
A. Damien: I was sick that week and I knew, going into that week, that my body wasn't going to respond properly to the workouts.

Q. Gina, RealityWanted.com:How surprised were the two of you that it was Damien who was sent home and not Joelle?
A. Damien: I was shocked at the outcome because, at that point, I knew then and there that the "game" was being played by Jillian's team.  Who would want to keep the contestant who wants to be there the least?  The answer: the ones most afraid of competition.
A. Nicole: I was completely shocked. I've been a fan of the show forever and this was a calculated decision. It was about gameplay and I was shocked to know it had started that early at the ranch.

Q. Gina, RealityWanted.com:What have you been doing to work towards the finale? Are you any less motivated without your trainers or cameras around you all the time?
A. Damien: I have been studying everything about fitness, nutrition, and how it affects my particular body type.  My motivation is our wedding.  You need to find something that's important to you and use it as motivation.
A. Nicole: I think we're more motivated. Without the trainers, I realized we had no choice. The Biggest Loser ranch was just a catalyst for us to do what we have always wanted to do anyway. Having my eye on the finale, and how fabulous we're going to look and feel, was my prime motivator. The craziest part is, it was bittersweet with him coming home, but they gave me my partner back so now we can to do it together and that's how we originally intended to do it.

Q. Gina, RealityWanted.com: What advice do you have for people who are hoping to be cast on a future season of The Biggest Loser?
A. Damien: Don't do it for the fame.  Do it for the education and the discipline.  The fame fades but the education lasts a lifetime.
A. Nicole: Go for it – and don't be shy. Clearly, everyone doesn't get chosen, but it's like the lotto: if you don't play, you don't win. So if you don't send in the tape or go to a casting call, you can't get on the show. Tell your story and let your story speak for itself.

(Image courtesy of NBC)