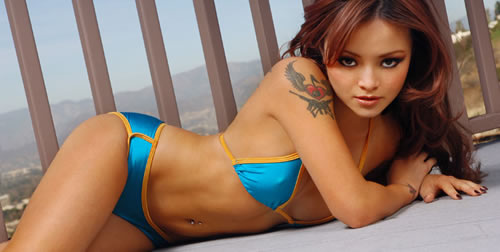 By Jackie Helm

We FINALLY see the long awaited headbutt! At the end of the show, Chad violently rammed Bo in the face with his head, the girls screamed and CUT. We have to wait until next week to see the official fight! Ahhh…fighting is one of the things that make Reality TV golden.

But in the beginning of this fierce episode, the first note from Tila is read: Open up and keep it real. The competitors pick a random question from a bowl and are expected to answer them truthfully.

Bo reads the first question, "Would you have sex with Tila in front of your parents?" Oddly, Bo states that he would have sex with Tila in front of the whole wide world. Even Jerky Jay thinks that this is uncouth. Samantha "Glitter" has no fantasies because they have all been satisfied. Chad lets us in on the big secret that Samantha has fulfilled her sex dreams because she is a stripper b&*$#. Geez Chad.

Sirbrina reads the question, "Should gay marriage be legalized?" Chad screams NO!!!... because everyone will marry everyone just to get free insurance! An angry debate engages and Chad is frustrated because the rest of the group doesn't know politics like he does! Geez Chad.

Cowboy hats and flannel shirts accompany the next message in the bottle. Tila wants to see who can ride a mechanical bull the longest? Donning ass-less chaps, Tila split the crew into 2 coed teams. After some serious honkey tonkin' the yellow team rode with the most stamina got to join Tila in her personal saloon.


Sign up today, rate users, read stories, rate and comment on reality TV news, apply to a casting call or just make friends. JOIN TODAY! It's FREE!


Liquor is poured and Tila is adored. T.T. takes deep-Boston-accented Michelle to the side for some one-on-one. Michelle wins Tila's favor for being a down to earth, cool chic. Next Tila chills with hot boi George and states that she likes his sensitivity. However, after he shy's away from a question regarding sex, Tila doesn't think George could bring it in the bedroom. During Tila's one on one with sexy Sirbrina, heavy kissing was the only highlight. Samantha plays the bull and Tila plays the cowgirl in a bull riding reenactment.






Meanwhile, the losers of the mechanical bull riding contest were sent off to cook dinner for Tila. Bo is hype due to being a chef in real life. He created a cross between Rachel Ray's and Hell's Kitchen up in there. He did organize and structure the preparation of the meal, but in an abrupt bia-bia kind of way. Naturally, the others are totally peeved by Bo's demeanor…but it paid off.

Tila was diggin' the chili dish. Bo made sure she knew he was the mastermind of the meal. This sent boiling irritation through the veins of the others. Finally, Tila hugged her dinner guests and headed for the bedroom. Bo used this as a chance to get a little time with Tila off in the cut. Bo basically gushed about his gooey feelings for her. In turn, Tila portrayed to be enlightened and heart-warmed by his worship.

The next message in the bottle introduced a beach party. The back yard was decked out with food, drink/drank, toys and more. The crew was having a gay ol' time but was stopped in their tracks as Tila made her entrance. Perfect flat stomached, hot body T' was smokin' in her sexy little bikini.

Tila and the crew were hanging and the pool party was hype. But Kristy needed some extra attention - girls gone wild behavior popped off as Kristy popped out her chi-chi's. Soon the others girls took turns revealing their t!ts. This led to the girls sandwiching Tila and engaging in hot 3, 4, 5 way kisses. Whoooaaa weeeee! Every so-called lesbian hating man in that backyard drooled in excitement and jealousy. But leave it to Jerky…I mean Jersey Jay to break it up (which the other guys booed him for).






Competition time. The game - Downpour Derby. The object - a team of two crank water into a bucket until it dumps on their partner. The gear - a wife beater and whitey tighties. The winning team - Kyle and Lisa.

This win granted Lisa and Kyle a one-on-one with Tila. The convo immediately became uneasy as Tila reminisced about the first time Lisa and Kyle were in the same room. To recall, Kyle kept showing up as Tila tried to talk with other people. He would gaze at them with his bizarre, piercing eyes and essentially weirded everyone out. Kyle said that at the time his intentions were not to interrupt, but to live in the moment and make his move. The girls laughed but Kyle was not amused. In fact, he became obviously irritated.

Tila broke the awkwardness by joining Kyle on a giant swing in the middle of the room. He seemed pleased with this and asked her if she had ever had sex on a swing. He went on to say that he lost his virginity to an Asian girl and is accustomed to dark haired petite women. Lastly he states that he loves sex in the morning. At this point, Kyle turned Tila off and imbedded the word "creep" into his name.




He's always watching….

During Lisa's turn on the swing with Tila; Kyle sat gazing at the pair. The girls tried to engage in convo but felt interrupted and violated by Kyle's laser eyes. Finally Tila wrapped it up and kissed only Lisa goodbye. What a smack in the face this was to Kyle.

The next smack in the face came during eliminations. The bottom four were: Obviously Kyle, TOTALLY unexpectedly George, Samantha "Glitter" the stripper, and rough neck Lisa. Here it comes...both girls stayed and both boys went home! WHAT? NOT GEORGE! Yes...George!






Before George jetted off the others went outside to say goodbye. Crocodile tears poured because we all know that George is an absolute winner. Even Scotty got watery. George explained that he's just a regular nice guy and this has proven that nice guys do finish last, "as [he] has all of this life".

After the highly emotional George exit, the crew was back in the crib chillin'. Jerky Jay decided to ruffle Bo's feathers by interrupting his conversation. Smack talk is exchanged, threats are thrown…but nothing happens. Until Bo tells Jay to get his head out of Chad's azz. This was just enough get Chad fired up.






Chad rushed over, began bucking up an acting a fool. Bo played it off as Chad and Jay were taken away to blow off some steam. For some dumb reason Bo reappeared in the same area as Chad. The final smack in the face came as BAM!!!...Chad headbutted Bo square in the grill. Geez Chad!!!

Previews for next week say something about George coming back due to the fight??? And someone calls Tila "fake as hell?? Check back for more anxiety-filled excitement!!!

Find additional A Shot at Love II links on sirlinksalot.net

Photos courtesy of mtv.com