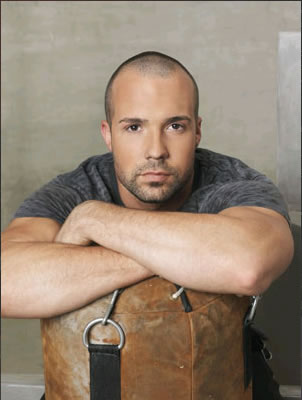 Interview with Brian Peeler From Bravos Workout: Brian Lets Jackie Have it!

After watching last weeks episode of Bravos workout I called up Brian to see what was up, his thoughts about Jackie Warner, and what he will do now that he was fired from Sky Sport.

Q. Mark: RealityWanted.com: Damn, what an episode last week. Some not so kind words were tossed back and forth between you and Jackie. I had to call you and see what was going on.

A. Brian Peeler, Bravo's Workout: What did you think? I mean, from what you saw what did you think?

Q. Mark: RealityWanted.com: It's hard to say brother. As viewers, I know we don't always get the full 360 on what happens but no matter who said what, I don't think you should tell a trainer to take a client to another club after that client was embarrassed and talked poorly of. I wanted to get the scoop from you and what we may have missed and so on.

A. Brian Peeler, Bravo's Workout: Supposedly there is no footage of Jackie talking about Jamie Eason or it's locked up somewhere. I know Jamie's boyfriend heard her say some bad comments and she just never apologized. If I was Jackie and I was approached the way I approached her I would at least apologize and/or be willing to talk about it. This whole entire mess could have been cleared up with two simple words; I'm sorry.

Sign up today, rate users, read stories, rate and comment on reality TV news, apply to a casting call or just make friends. JOIN TODAY! It's FREE!

Q. Mark: RealityWanted.com: True, it did seem like Jackie should have at least talked with you about it or said she was sorry it happened, maybe even brought Jamie in and talked with her about it.

A. Brian Peeler, Bravo's Workout: I wasn't even looking for Jackie to apologize to me, I was hoping she would have apologized to Jamie Eason and her boyfriend, but I know Jackie, and she will just blame it on the producers.

Q. Mark: RealityWanted.com: What about that deal with Lisa, it seemed she wanted to create drama by tattle tailing on you to Jackie.

A. Brian Peeler, Bravo's Workout: It's sad, I have worked at other gyms and everyone is very professional. We never bad mouth clients and employees. There has been a ton of negativity around that gym and you guys don't see it at home but a ton of clients and employees have left.

Q. Mark: RealityWanted.com: We all know it's a different world when cameras and microphones follow you around all day, but as a prior gym manager I would never tell a trainer to take his client elsewhere especially after that incident. If Jackie wants to fire you that's her deal but to tell you take a client to another gym after she was talked poorly of is a bit much.

A. Brian Peeler, Bravo's Workout: Jackie didn't even know who Jamie Eason was. Jamie is the number one fitness model and she told me to take her to another club. You would think Jackie would know who she was. To be honest I feel sorry for Jackie right now.

Q. Mark: RealityWanted.com: Really? You feel sorry for Jackie Warner?

A. Brian Peeler, Bravo's Workout: I know Jackie and she will just try and place the blame on someone else but she has finally pulled the plug out of the drain and things are starting to fall apart for her.

Mark: RealityWanted.com: You did say we would start to see her true colors at the start of the season, maybe this is the beginning of the end? What about the whole wearing of the clothes gig?

A. Brian Peeler, Bravo's Workout: I just wanted Jackie to apologize to Jamie, that's all. As far as the clothing/uniform I am a subcontractor. If I have to pay to use your facility why can't I wear my own clothes, but if its regulation I'll do it.

Q. Mark: RealityWanted.com: I did see a clip that you will still be shown on tonight's show but what's next for you man? I know you can't spoil the season and let us know if things work out but I am going to assume you have your own plans?

A. Brian Peeler, Bravo's Workout: Just like all the viewers, I have not seen the next episodes so I don't know what to expect. You are right, I have been developing my own show for the past year and currently pitching it.

Q. Mark: RealityWanted.com: It's a fitness related show right?

A. Brian Peeler, Bravo's Workout: Yes, it's a show with me and it is about fitness, more centered on working out and training.

Mark: RealityWanted.com: Thanks for your time again boss. If they keep you on the show I will follow up with you. Either way lets connect later once you can tell Peeler fans more about your new project. Any final words or thoughts?

A. Brian Peeler, Bravo's Workout: My message to Jackie is that I all you had to do was say you were sorry. Sometimes having to much pride and being too hard headed can hurt you. We all need to suck it up sometimes and just apologize.

Also, people can check out my Myspace to see what fans of the show have had to say. Lastly, tell everyone to stop by peelerbuilt.com, brianpeeler.com or http://www.myspace.com/brianapeeler if they want some one on one training session.

Mark: RealityWanted.com: Will do man, I'll be in touch with you later and can't wait to see tonight's show.

Everyone should express opinions as how they feel. Jackie I do feel sorry for you and told you, all you had to do is say your sorry and be less hard headed, you have to suck up pride…to read how fans feel go to my Myspace.

Find additional Workout links on sirlinksalot.net