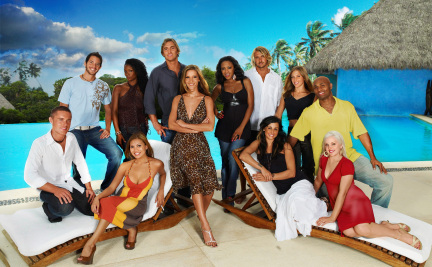 The popular reality program "Paradise Hotel" returns to television this winter with all new episodes on MyNetworkTV and Fox Reality Channel, the only all-reality, all-the-time cable and satellite network, starting Monday, February 4th, announced Greg Meidel, President, MyNetworkTV and David Lyle, President, Fox Reality Channel.  The Fox Reality Original series, "Paradise Hotel 2" will debut on MyNetworkTV at 9:00 p.m. (ET/PT), with a late-night TV-MA version on Fox Reality Channel at 1:00 a.m. (ET) / 10:00 p.m. (PT).
In making the announcement, Meidel stated, "We are thrilled to have 'Paradise Hotel 2' on MyNetworkTV. The series, offering a mix of outrageous guests, remote hideaways and compelling twists, is an exciting addition to our Monday night schedule."
"Paradise Hotel 2" features a cast of eleven sexy singles who check-in to a secluded resort for an adventure-filled experience and the chance to win a cash prize.  To stay in paradise, guests must find a roommate of the opposite sex and the individual left without a roommate will have to leave the hotel.  Things take a dramatic turn when new guests check-in and have to quickly make and break alliances to stay in the competition.  There are no rules in this game of strategy and manipulation where sex and seduction are among the tools players use in their battle to avoid eviction.
Lyle added, "The first season of 'Paradise Hotel' proved to be a ratings bonanza that left viewers wanting more.  Our newest original combines the exciting unpredictability of a reality show with the addictiveness of a night time drama.  Fans, old and new, will love 'Paradise Hotel 2' as it offers more drama, passion and manipulation than ever before."
The primetime MyNetworkTV version of "Paradise Hotel 2" will feature all of the intriguing drama, lust and betrayals, and Fox Reality Channel's late-night, mature audience version exposes even more steamy exclusive footage.
"Paradise Hotel 2" is a Fox Reality Original co-production with MyNetworkTV.  Mentorn USA, the production company behind the first "Paradise Hotel," also returns to produce both the broadcast and cable versions, with executive producers Richard Hall, Dan Barraclough and David Leach.
About MyNetworkTV
MyNetworkTV is a primetime general entertainment broadcast television network, reaching over 97% of the country.  Targeted to Adults 18-49, MyNetworkTV provides its affiliates 12 hours of diverse programming Monday through Saturday.  For more information, please visit www.mynetworktv.com.
About Fox Reality Channel
Fox Reality Channel launched May 24, 2005 to become the first destination for lovers of unscripted programming. The channel offers major US network favorites, exclusive international reality programming, Original Series and Specials. Fox Reality Channel offers reality viewers more of their favorite reality programming with RealityRevealed in Primetime with never-before-seen footage, exclusive interviews, behind the scenes secrets and more reality fun. Fox Reality Channel distribution propelled past 35 million subscribers in its second year, becoming one of only four new networks to achieve that feat.  Its programming is available on television, broadband, cellular phones and other leading mobile devices. It recently entered into a sweeping deal with Apple® to deliver upcoming original series to iTunes® (excluding American Idol Extra).  To get more information on Fox Reality Channel programs and schedules, please visit foxreality.com.
About Mentorn USA
Mentorn USA is a British pioneer in the production of primetime reality and entertainment formats for the major US networks and cable channels. Based in Los Angeles and launched in 2001 to produce "Challenge America with Erin Brockovich," Mentorn went on to produce the biggest ever US commission from a UK producer – the 32-hour "Paradise Hotel" for FOX. Mentorn USA went on to produce the "America's Worst Driver" special, the 26-part FOX reality series "Forever Eden" and the hit reality show "Work Out" for BRAVO.